THE TRIBUNE MAGAZINES
On alternate Mondays

On Sundays
On Saturdays

IN PASSING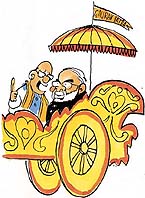 The Congress is responsible for everything, including Gujarat, droughts, floods, earthquakes....

by Sandeep Joshi
President's nod to prosecute Sidhu
Patiala, September 9
The Vigilance Bureau has received sanction to prosecute suspended PPSC Chairman Ravinderpal Singh Sidhu from the office of the President.
Diarrhoea claims girl's life
More than 60, mostly kids, affected
Yamunanagar, September 9
A girl has died and more than 60 persons, mostly children, have been affected by diarrhoea at Saran village, about 25 km from here, since yesterday. Villagers complained of diarrhoea yesterday morning and six of them were rushed to the Primary Health Centre, Mustafabad.
IG Sharma to be declared PO
New Delhi, September 9
A Delhi court today gave permission to the Delhi police to start the procedure to declare Ravi Kant Sharma proclaimed offender and "attach" his property. Suspended Haryana IG Sharma is the prime suspect in the Shivani Bhatnagar murder case.
Punjab CM undergoes angioplasty


New Delhi, September 9
Punjab Chief Minister Amarinder Singh underwent a successful coronary angioplasty at Batra Hospital today. The angioplasty was necessitated after the 'thalium test' conducted this morning showed "some block in an artery."



2 of family die of AIDS
Bathinda, September 9
Two deaths due to AIDS in a family of Kothe Guru Ke village of this district took place in the past four months. The death of another member of the same family is also suspected to be due to AIDS. The district health authorities have decided to organise medical check-up camps at the village and take up the issue with the Deputy Commissioner.

Modi kicks off gaurav yatra
September 9, 2002

BCCI ultimatum to players
September 8, 2002

ICC bows to players
September 7, 2002

No free power for farmers
September 6, 2002

India beat Pak 3-2 in hockey
September 5, 2002

Jacob likely to replace Bhandari in Gujarat
September 4, 2002

SC stands by EC order
September 3, 2002

APHC defers decision
September 2, 2002

Bail-out package for UTI
September 1, 2002

Plot to kill Gujarat CM
August 31, 2002