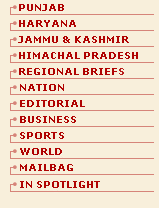 Wednesday, September 11, 2002, Chandigarh, India
Updated at 4:00 pm (IST)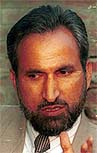 Ultras kill J&K Law Minister
Srinagar, September 11
Jammu and Kashmir Law Minister Mushtaq Ahmad Lone was killed today in a militant attack, official sources said here. The militants first triggered a landmine blast as his motorcade passed and fired a volley of gun shots killing him in Rednag village in Kupwara district.
120 die in worst Rajdhani mishap
Rafiganj (Bihar), September 10
More than 120 persons were feared killed and about 180 injured, some of them critically, when the new Delhi-bound Rajdhani Express from Howrah jumped tracks hurtling one of the bogies into a virtually dry river bed with many others dangling from an 86-year-old bridge near here late last night.


In video (28k, 56k)
CAST YOUR VOTE
Do you support Manisha Koirala's stand on Ek Chhoti Si Love Story?