THE TRIBUNE MAGAZINES
On alternate Mondays

On Sundays
On Saturdays

IN PASSING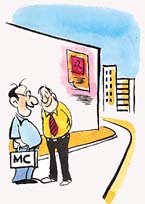 Thanks to Salman Khan, all pavement dwellers have disappeared !

by Sandeep Joshi
Selloff: test for PM tomorrow
New Delhi, October 3
Prime Minister Atal Behari Vajpayee is likely to assert his authority for the second time this week, on October 5, when he presides over the full Planning Commission meeting which is to clear the Tenth Five Year Plan, aiming to raise a whopping Rs 80,000 crore through disinvestment over which there are dissensions in the Cabinet.



Editorial: Questions over disinvestment


Business page: BJP plays down RSS chief's remarks on selloff

Salman has no licence?
Mumbai, October 3


Providing a new twist to the Salman Khan driving case, the Mumbai police said today that the star probably did not have a driving licence at all although he had claimed to own one at the time of his arrest on September 28 after he allegedly rammed into a bakery shop killing one person and injuring four.
Srinagar, October 3
After the completion of three phases of elections in Jammu and Kashmir, the police and security agencies have further been geared up to facilitate the smooth conduct of polling in the Lolab constituency of Kupwara district in north Kashmir.
J&K page: PC proxy threatens to pull out

Abdul Haq Khan, an Independent from the Lolab constituency of Kupwara district, meets 'influential villagers' in the area.
— photo Amin War
Fresh wave of violence in J&K
October 3, 2002

6 jawans die in blast
October 2, 2002

Security umbrella for 3rd phase poll
October 1, 2002

STF back in barracks
September 30, 2002

10-day police remand for R.K. Sharma
September 29, 2002

Temple attackers were Pakistanis
September 28, 2002

Stray incidents mark bandh
September 27, 2002

Army deployed in Gujarat
September 26, 2002

Ultras storm Gujarat temple, kill 30
September 25, 2002

Ultras kill cop, take 3 hostage on poll eve
September 24, 2002