THE TRIBUNE MAGAZINES
On alternate Mondays

On Sundays
On Saturdays

IN PASSING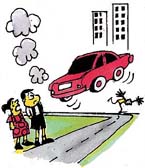 He may not have a driving licence, but he has a licence to kill!

by Sandeep Joshi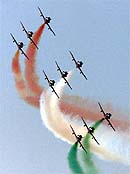 Military aircraft fly over the skies of New Delhi during a rehearsal on Saturday. The aircraft will be on display along with other military aircraft as part of the Air Force Day celebration on October 8. — Reuters
Pandove is PPSC member


Chandigarh, October 5
Mr M.P. Pandove, eminent sportsperson and Administrator, has been appointed member of the Punjab Public Service Commission. His appointment as member, according to informed sources, was cleared today by the Punjab Governor, Leiut-Gen J.F. R. Jacob (retd).

Don't let Salman meet victims' kin: HC
Mumbai, October 5
The Bombay High Court today asked the police not to allow Bollywood actor Salman Khan, who was allegedly involved in a car accident, or his family members, relatives and friends to meet the mishap victims or their kin.



Edit page: Bollywood's 'brat pack' in focus


Julkas preserve frescos of Gurus
Hargobindpur, October 5
Even as a study of the art and architecture of this historical town remained neglected by art historians and critics, a well-knit family of "Julkas" has endeavoured to preserve one of the ancient houses of the town in its original form.
Damaged parts of frescos of the 'Gurdwara Satkartaria' at Sri Hargobindpur town in Gurdaspur district. — Photo Rajiv Sharma
10 militants killed
October 5, 2002

Nine militants shot
October 4, 2002

Fresh wave of violence in J&K
October 3, 2002

6 jawans die in blast
October 2, 2002

Security umbrella for 3rd phase poll
October 1, 2002

STF back in barracks
September 30, 2002

10-day police remand for R.K. Sharma
September 29, 2002

Temple attackers were Pakistanis
September 28, 2002

Stray incidents mark bandh
September 27, 2002

Army deployed in Gujarat
September 26, 2002