THE TRIBUNE MAGAZINES
On alternate Mondays

On Sundays
On Saturdays

IN PASSING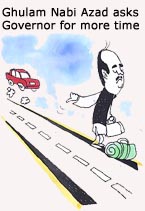 Lift please!

by Sandeep Joshi
Sunita stripped of medals


Busan, October 16
Indian long-distance runner Sunita Rani was stripped of her Asian Games medals today after failing to pass doping tests, the organising committee said.



Sports page: Sunita Rani alone not to blame


Kalmadi warns Sunita of 'strictest action'
Prices of diesel, petrol hiked
New Delhi, October 16
Government-owned oil companies today announced a 33 to 53 paise hike per litre of petrol and 32 to 57 paise per litre increase in the diesel price from midnight tonight.
2-day Haryana session from Oct 30
Chandigarh, October 16
The Haryana Cabinet today recommended to the Governor to summon a special two-day session of the State Assembly from October 30.


Rest house getting ready to 'receive' Badal?
Pathankot, October 16
Katori Rest House situated on the border of Himachal Pradesh where Mr Parkash Singh Badal, President, Shiromani Akali Dal, was kept during the tenure of the Beant Singh government is being renovated on a war-footing despite financial crunch.
Punjab page: CM: Badal's wife, son also under scrutiny

Labourers busy renovating Katori Rest House, 45 km from Pathankot, on the Himachal border where Mr Parkash Singh Badal was kept in detention during the Beant Singh regime. — Photo Rajiv Sharma
Ultimatum to Cong, PDP
October 16, 2002

Cong, PDP adamant
October 15, 2002

J&K poll turning point: Advani
October 14, 2002

Congress, PDP talks make some headway
October 13, 2002

Independents hold key
October 12, 2002

Voters reject NC; Omar humbled
October 11, 2002

Copters, jawans tighten cordon
October 10, 2002

Voters defy the bullet
October 9, 2002

15 Independents float party
October 8, 2002

Bid on candidate's life
October 7, 2002

PM lays out tough reforms
October 6, 2002
10 militants killed
October 5, 2002