THE TRIBUNE MAGAZINES
On alternate Mondays

On Sundays
On Saturdays

SGPC members' kin pour in
Balasar (Sirsa), November 9
Kin of a section of members of the SGPC have started pouring into various farmhouses located in Sirsa district, where more than 100 members of the SGPC, have been staying put, to avoid harassment by the police after their premises were raided in these two days.


---
SPECIAL EDITORIAL
At stake is maryada
Hari Jaisingh
Punjab has of late been witnessing dangerous games of political brinkmanship and a naked display of police power in the name of religion. The Akali-Congress tug-of-war is specifically meant for the purpose of controlling gurdwaras by manipulating the 170-member SGPC executive election scheduled for Tuesday (November 12) in Amritsar.
---
SAARC meet: PM may send Sinha


New Delhi, November 9
Prime Minister Atal Behari Vajpayee is disinclined to visit Islamabad in January, 2003, for the next summit of the South Asian Association for Regional Cooperation.
Sonia to consider PM's post
Blames Centre for food-scarcity deaths in Rajasthan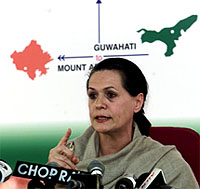 Mount Abu, November 9
Congress President Sonia Gandhi today indicated that she would be the party's candidate for the post of Prime Minister in the next Lok Sabha poll.

Congress President Sonia Gandhi during a Press conference after the Congress Chief Ministers' conclave in Mount Abu on Saturday.
— PTI photo
Property worth 4 cr detected
BSNL official among 6 in CBI net
New Delhi, November 9
The CBI today claimed to have detected property, cash, investments worth around Rs 4 crore during its fourth special countrywide raids conducted at the premises of 46 public servants, besides some private persons.


SUNDAY ANCHOR
Online casinos attract millions
Chandigarh, November 9
Are you ready to gamble on the internet ? Many may already be doing so as several online casinos have an estimated over 20 million users eversince their official launch in 1990s on worldwide web.
Pre-dawn swoop on SAD workers
November 9, 2002

4 pro-Badal members debarred from voting
November 8, 2002

BJP rebels shelve plan to float party
November 7, 2002

UP rebels to float new outfit
November 6, 2002

Return of Pandits top priority: Mufti
November 4, 2002

Kelkar for 1 lakh as IT exemption limit, 2 slabs
November 3, 2002

SP stakes claim to form government
November 2, 2002

Keep off admissions to MEIs, SC tells govt
November 1, 2002

Mufti invited to form govt
October 31, 2002

RBI cuts bank rate, CRR
October 30, 2002

Gujarat poll on Dec 12
October 29, 2002

Mufti to scrap POTA
October 28, 2002

Mufti to be CM
October 27, 2002

PM vows to crush Pak monster
October 26, 2002

Theatre of terror: 700 held hostage
October 25, 2002