THE TRIBUNE MAGAZINES
On alternate Mondays

On Sundays
On Saturdays

IN PASSING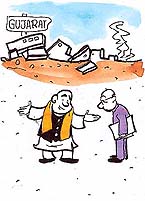 Well! I want to contest from this constituency.

by Sandeep Joshi
Pervez may order fresh poll
New Delhi, November 19
General Pervez Musharraf's peculiar move of putting the cart before the horse by getting himself sworn in as Pakistan President for another five years even before the formation of the National Assembly and election of the Prime Minister is being viewed in diplomatic circles here with suspicion.
14 killed as Naxals blow up bus
Hyderabad, November 19
In the worst attack in recent times, PWG Naxals blew up a state road transport corporation bus, mistaking it to be carrying policemen, killing 14 passengers on board, mostly tribals, and injuring 16 others in Warangal district of Andhra Pradesh last night, the police said.
There are no under 18 here!
Chandigarh, November 19
Going by the voters' list for the municipal elections, it seems there is no voter under 18 years in Jalalabad, which falls in Ferozepore district. As per the Census-2001, Jalalabad has a population of 32,500. The number of voters at present is 29,081.

Ogata gets Indira peace prize
New Delhi, November 19
President APJ Kalam today presented the Indira Gandhi International Award for Peace, Disarmament and Development, 2001, to Japanese diplomat and Human Rights activist Professor Sadako Ogata.


In video (28k, 56k)

Jhajjar agitation ends
Jhajjar, November 19
The Dulina Goraksha Sangharsh Samiti, which was spearheading the agitation by villagers in the district in protest against the arrest of six persons in connection with the October 15 lynching incident at Dulina in which five Dalits were killed, today called off the agitation and the proposed Haryana bandh tomorrow.
WITH THE JATHA IN PAK
Leaders skip siropa exchange
Nankana Sahib, November 19
Giving clear indications that they do not accept the authority of the Pakistan Sikh Gurdwara Prabandhak Committee (PSGPC), the leader and the deputy leader of the SGPC jatha refused to exchange siropas (robes of honour) at a religious function held at the birth place of Guru Nanak Dev here today.
Cong Gujarat list sans Vaghela
November 19, 2002
SC Judge to examine cases against 3 HC Judges
November 18, 2002
Togadia's entry banned
November 17, 2002
VHP rejects PM's appeal
November 16, 2002
VHP firm on yatra
November 15, 2002
EC bans VHP yatra
November 14, 2002
Badungar re-elected SGPC chief
November 13, 2002
Unprecedented security for SGPC poll
November 12, 2002
Police enters Golden Temple complex
November 11, 2002
All entry points sealed
November 10, 2002
Pre-dawn swoop on SAD workers
November 9, 2002