THE TRIBUNE MAGAZINES
On alternate Mondays

On Sundays
On Saturdays

IN PASSING
by Sandeep Joshi
DULINA INCIDENT
Killings not motivated: panel
New Delhi, November 28
In a crucial comment on the lynching of five Dalits at Dulina in Haryana, the National SC and ST Commission has held that the victims' caste was not a factor for their being targeted by an "ordinary" mob and that the incident was an accident and "not motivated".
Godhra not to be issue: Cong
Ahmedabad, November 28
Indicating that it was not going to raise the Godhra issue during the Gujarat Assembly poll, the Congress today said a commission to probe into the cooperative bank scam will be set up and five lakh jobs will be provided if elected to power and pledged to make the state secure.



Edit page
Frankly speaking: Hari Jaisingh
Testing time ahead for Gujarat

India not to let down Saddam: Sinha
New Delhi, November 28
Asserting that it will "not let down" Iraqi President Saddam Hussein, the Union Government today cautioned that any US-sponsored unilateral military action could spell disaster extending beyond the Gulf region, while asking Baghdad to fully comply with the UN inspection for weapons of mass destruction.
Bill to amend SPG Act
New Delhi, November 28
Proximate security cover by the elite Special Protection Group to a former Prime Minister and his spouse is proposed to be restricted to a year from the date he ceases to hold his office.


Flyovers, subways mooted to beautify Amritsar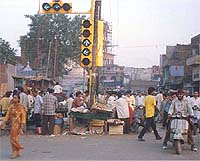 Amritsar, November 28
Several flyovers, subways for pedestrians across the GT road and parking places have been recommended for the city with a view to removing traffic bottlenecks, and re-routing traffic at many places.

Encroachments in Amritsar are common. Even the area around traffic lights is not spared. — Photo Rajiv Sharma

In Career Guide today

Badal courts arrest, let off
November 28, 2002
Mufti acted against advice: Advani
November 27, 2002
Temple terror ends
November 26, 2002

Raghunath Temple attacked, 12 dead
November 25, 2002

12 die as militants blow up bus
November 24, 2002

7 CRPF men die in Lashkar attack
November 23, 2002

POTA on hold in J&K
November 22, 2002

A go-by to House decorum
November 21, 2002

Modi opts for 'safe' Maninagar seat
November 20, 2002

Cong Gujarat list sans Vaghela
November 19, 2002