THE TRIBUNE MAGAZINES
On alternate Mondays

On Sundays
On Saturdays
Seizures, arrests spark Al-Qaida fears
London, January 12
New fears about the spread of the Al-Qaida across Europe have arisen after police cracked down on suspects planning to spread poison in London and the arrest of two Al-Qaida members in Germany.

In video (28k, 56k)


World page: 'Panic rooms' to protect royal family
"Devdas" sweeps Zee cine awards
Mumbai, January 12
The opulent tragedy "Devdas" has swept the popular Zee Fairglow Cine Awards here, but the choice of some winners seems to have left fans unhappy.
Shah Rukh Khan and Aishwarya
Don't field some MLAs, Cong advised
New Delhi, January 12
A survey done for the Congress in Himachal Pradesh has advised the party to not give ticket to 30 per cent of the sitting MLAs. It has also suggested it to make special efforts to woo Brahmins, reach a "soft understanding" with the Himachal Vikas Congress and keep the election campaign at an aggressive pitch.


Himachal page: HVC keen on poll pact with Cong

CPI decries Cong's poll stance


Factionalism worries BJP, Cong
Shimla, January 12
Deep-rooted factionalism continues to worry the BJP and the Congress, the two main contenders for power in the state, even as the Chief Election Commission announced the date for the Assembly poll in the hill state. In fact, the high commands of the two parties have been busy finding a workable solution to end the factional war, which can spell doom at the hustings.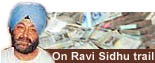 HP elections on Feb 26
January 12, 2003
Norms for overseas investment eased
January 11, 2003
PIOs in 6 countries eligible for dual citizenship
January 10, 2003
All-party meeting backs Amarinder
January 9, 2003
Advani: deport overstaying Pakistanis, Bangladeshis
January 8, 2003
Centre against disbanding SOG
January 7, 2003
Centre clears dual citizenship
January 6, 2003
PM to control N-trigger
January 5, 2003
Bihar in flames
January 4, 2003