THE TRIBUNE MAGAZINES
On alternate Mondays

On Sundays
On Saturdays
Assembly elections: campaigning ends today
New Delhi, February 23
Campaigning for the Assembly poll in Himachal Pradesh, Nagaland, Tripura and Meghalaya and byelection in eight Assembly constituencies spread over seven states ends tomorrow with senior leaders of the political parties making last-ditch efforts to woo the voters.
Six die in bus mishap
Nawanshahr, February 23
Six persons, including four women and a three-year-old girl were killed on the spot and 20 others were injured when a Punjab Roadways bus of the Nawanshahr depot, going to Chandigarh from Amritsar, hit a tree near Barnala Gate on the Chandigarh road at about 2.15 p.m. today.
Rain, snow hit life in Kashmir
Jammu, February 23
Life in the Kashmir valley, including the city, was hit, due to severe cold coupled with power failure, overflowing drains and damaged roads.


Sonia must apologise on beef issue: Uma
Chandigarh, February 23


Giving a new twist to the alleged "smear campaign" started by the Congress against the Prime Minister, Mr Atal Behari Vajpayee, in Madhya Pradesh, the star campaigner of the BJP in that state, Ms Uma Bharati, said today that "an apology or regret by the Congress President, Mrs Sonia Gandhi, could resolve the beef-eating controversy".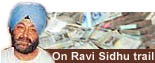 Sansad to intensify stir
February 23, 2003
SC to hear Ayodhya case on March 6
February 22, 2003
Pak air chief killed in crash
February 21, 2003
Squall leaves fourteen dead in Punjab
February 20, 2003
Ayodhya debate on Feb 26
February 19, 2003
Accept court verdict on Ayodhya, says Kalam
February 18, 2003
Pawar, Mulayam dine with Sonia
February 17, 2003
Crisis in UP blows over
February 16, 2003
Blix: Iraq has no arms of mass destruction
February 15, 2003
BJP, RSS join hands
February 14, 2003
Advani comes to Dhumal's defence
February 13, 2003