THE TRIBUNE MAGAZINES
On alternate Mondays

On Sundays
On Saturdays
IN PASSING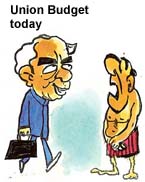 Please don't forget to spare me, sir!

by Sandeep Joshi
Subsidy reprioritisation needed
New Delhi, February 27
The Economic Survey has called for a reprioritisation of the subsidy programme through a rationalisation of the prices of food, fertilisers, LPG and kerosene. Expenditure on major subsidies is budgeted at Rs 38,923 crore in 2002-03 as compared with an expenditure of Rs 30,094 crore in 2001-02.

Continue removing capital controls: Survey
New Delhi, February 27
Reposing full confidence that India's external sector would be able to weather uncertain global situation, the Economic Survey today called for continuation of measured approach towards removing capital controls. "Surging foreign exchange reserves have provided an opportunity towards further relaxation of existing capital controls.
In graphic: Infrastructure performance


Little protection to 'protected' monument
Maharaja's palace a picture of neglect
Amritsar, February 27
'Protected' monuments in this ancient city are in a dilapidated state, owing to their negligence by the authorities concerned.

The historic Ram Bagh, that was got constructed by Maharaja Ranjit Singh, now houses four clubs, despite the building being declared 'protected' by the state government.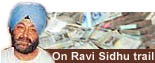 Rail fares, freight rates untouched
February 27, 2003
I will not destroy missiles: Saddam
February 26, 2003
India, Pak clash at NAM
February 25, 2003
Sants to gherao Parliament today
February 24, 2003
Sansad to intensify stir
February 23, 2003
SC to hear Ayodhya case on March 6
February 22, 2003
Pak air chief killed in crash
February 21, 2003
Squall leaves fourteen dead in Punjab
February 20, 2003
Ayodhya debate on Feb 26
February 19, 2003
Accept court verdict on Ayodhya, says Kalam
February 18, 2003