THE TRIBUNE MAGAZINES
On alternate Mondays

On Sundays
On Saturdays
Tripura stays with Left Front
Meghalaya throws up hung House
New Delhi, March 1
Nearly three months after being humiliated in Gujarat, the Congress today staged a comeback, ousting the BJP in Himachal Pradesh, and emerged as the single largest party in Meghalaya, but was voted out in Nagaland while the Left Front retained power in Tripura.
Sports page
Tendulkar shows the exit door to Pak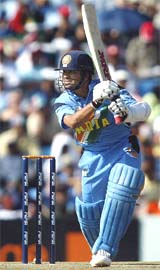 Centurion, March 1
India have done it. Yes they overcame a spirited challenge from their arch-rivals, Pakistan, to cruise into the super six league of the Cricket World Cup scoring a 6-wicket victory with four overs to spare here today.


Sachin crosses 12,000-run mark


Sachin Tendulkar hits a shot during a group A match of the cricket World Cup between India and Pakistan in Centurion, South Africa, on Saturday. — Reuters photo
TRIBUNE IMPACT
SEC deletes name of voter
Jalalabad (Ferozepore), March 1
Taking suo motu notice of a report appearing in The Tribune on Saturday about the SDM-cum-Returning Officer over ruling the decision of the State Election Commission regarding the nomination of a Congress candidate, Mr Prithivi Raj Doomra, for the coming Municipal Council Election, the SEC today again issued a directive not to include the name of Mr Doomra in the list of contesting candidates.
In Her World today
Standard deduction up, IT surcharge goes
March 1, 2003

GDP growth pegged lower at 4.4 pc
February 28, 2003
Rail fares, freight rates untouched
February 27, 2003
I will not destroy missiles: Saddam
February 26, 2003
India, Pak clash at NAM
February 25, 2003
Sants to gherao Parliament today
February 24, 2003
Sansad to intensify stir
February 23, 2003
SC to hear Ayodhya case on March 6
February 22, 2003
Pak air chief killed in crash
February 21, 2003
Squall leaves fourteen dead in Punjab
February 20, 2003
Ayodhya debate on Feb 26
February 19, 2003
Accept court verdict on Ayodhya, says Kalam
February 18, 2003