THE TRIBUNE MAGAZINES
On alternate Mondays

On Sundays
On Saturdays
IN PASSING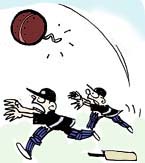 When the ball strikes terror!

by Sandeep Joshi
ASI begins survey
Waqf board objects to excavation
Ayodhya, March 10
A 16-member team of the Archaeological Survey of India today began a survey for excavation of the disputed site in Ayodhya following the directive of the Allahabad High Court. Prior to arrival at the site, the team also held a meeting.
In video (28k, 56k)


Babri case: SC censures counsel
VHP extends 'satyagraha'
New Delhi, March 10
The Vishwa Hindu Parishad today extended its one-day "satyagraha" on the Ayodhya issue, scheduled to be held in Delhi on March 27, to a week-long programme.
BSP men provided tapes: Mulayam
New Delhi, March 10
The Samajwadi Party today tended to give a new twist to the raging videotape controversy in Uttar Pradesh by saying that the tapes had in fact been provided to his party by none other than "disgruntled" ministers and legislators belonging to the Bahujan Samaj Party.
Clashes in LS, RS over tape
New Delhi, March 10
The Mayawati videotape scandal today led to clashes between Samajwadi Party and BSP members in the Lok Sabha, forcing Speaker Manohar Joshi to abruptly adjourn the House for a lunch recess ahead of schedule.
Kidney scam: 11 chargesheeted
Amritsar, March 10
The Special Investigation Team today chargesheeted 11 persons, including Dr P.K. Sareen, transplant surgeon, Dr O.P. Mahajan, suspended Principal of Government Medical College, and Dr Jagdish Gargi, Professor and Head, Forensic Medicine, in the multi-crore kidney scam here.


No new taxes in Haryana Budget
Deficit pegged at Rs 671 cr
Chandigarh, March 10
The Budget estimates for 2003-04, presented by Haryana Finance Minister Sampat Singh in the State Assembly here today, projected a deficit of Rs 671 crore at the close of the year.
In Education Tribune today
Cong victorious in civic poll
March 10, 2003
ULFA ultras bomb Digboi Refinery
March 9, 2003
Women's Reservation Bill in current session
March 8, 2003
SC reserves verdict on Ayodhya
March 7, 2003
Sonia clears HP Cabinet
March 6, 2003
Virbhadra to be CM
March 5, 2003
Advantage Virbhadra
March 4, 2003
Infighting led to BJP ouster: Vajpayee
March 3, 2003
Cong captures power in HP
March 2, 2003
Standard deduction up, IT surcharge goes
March 1, 2003