HOROSCOPE
THE TRIBUNE MAGAZINES
On alternate Mondays

On Sundays
On Saturdays
Suspend officials, EC tells MP Govt
New Delhi, March 15
Taking a stern view on dereliction of duty, the Election Commission today turned down the Madhya Pradesh government's reconsideration plea and asked it to suspend the officials and order an inquiry against them.
Mob attacks police station
Nawada (Bihar), March 15
Over 1,000-strong mob attacked the Bundelkhand Sahayak police station and torched several vehicles here tonight. According to the police, the attackers demanding the release of their 12 accomplices nabbed during a religious procession this morning, hurled bombs at the police station.
Militants burn houses of one community
Jammu, March 15
Militants set ablaze six abandoned houses in Nerolai village in Thannamadi sector of Rajauri district late last night, a senior police officer said today. Senior Superintendent of Police, Rajauri, Prithvi Raj Manhas told UNI here today that militants descended on the village from the nearby hills and sprinkled kerosene on the empty houses and set these afire.


Plan for Ganga pollution control
New Delhi, March 15
A development study to prepare a master plan for quality water management of the Ganga water is being prepared jointly by the Japan International Cooperation Agency (JICA) and the Indian Government.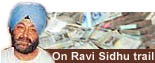 Gujarat tense; 10 hurt in Muharram violence
March 15, 2003
SC: poll reforms law unconstitutional
March 14, 2003
PM against war without UN nod
March 13, 2003
Jaswant rolls back urea price hike
March 12, 2003
5 more join Punjab Ministry
March 11, 2003
Cong victorious in civic poll
March 10, 2003
ULFA ultras bomb Digboi Refinery
March 9, 2003
Women's Reservation Bill in current session
March 8, 2003
SC reserves verdict on Ayodhya
March 7, 2003
Sonia clears HP Cabinet
March 6, 2003
Virbhadra to be CM
March 5, 2003