THE TRIBUNE MAGAZINES
On alternate Mondays

On Sundays
On Saturdays
IN PASSING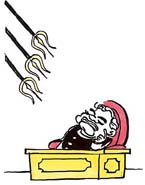 Wish I also had Patriot missiles to fight these scuds!

by Sandeep Joshi
J&K Chief Minister meets Vajpayee today

Avalanche kills 6 BSF jawans

AYODHYA ISSUE
RSS leaders court arrest
New Delhi, April 1
The Rashtriya Swayamsevak Sangh today took a decisive plunge in the Ram temple movement, finally doing away its facade of maintaining a distance with its outfits, when its leaders courted arrest here during the ongoing 'satyagraha' on the Ayodhya issue.


'Allah' tile dug up

Editorial: Judgement for harmony

VAT deadline missed yet again
New Delhi, April 1
For the third time, India has failed to meet the deadline for the implementation of the value added tax, with thousands of traders downing shutters in protest and several state governments saying that they would be unable to comply.

BJP General Secretary Pramod Mahajan says the decision to implement VAT was in fact taken during the Congress rule. (28k, 56k)


Protests held against VAT
SAD, BJP stand by Cong
Resolutions on SYL canal, special package passed
Chandigarh, April 1
It was a different day today in the Punjab Vidhan Sabha. Forgetting bitterness and fierce political rivalry, the Treasury as well as Opposition Benches passed two important resolutions unanimously.
CEO of DLF Universal Ltd arrested
New Delhi, April 1
The CBI today arrested CEO of DLF Universal Ltd Ajay Khanna for allegedly bribing DDA officials. The agency has alleged that Mr Khanna was in touch with a tout Dharam Bir Khattar, who was acting on behalf of former DDA Vice-Chairman Subhash Sharma.


Kar seva to gild Akal Takht domes
Amritsar, April 1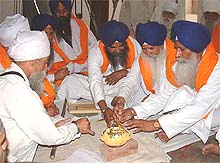 "Kar seva" to gild the domes of Akal Takht started amidst slogans of "bole so nihal, Sat Sri Akal" here today.
Giani Joginder Singh Vedanti, Jathedar, Akal Takht, inaugurates "kar seva" to gild Akal Takht domes along with other high priests at the Golden Temple on Tuesday.
— Photo Rajiv Sharma
In Health Tribune today
Al Qaida-Iraq nexus exposed
April 1, 2003

Suicide attack on US base
March 3

1

, 2003
Suicide bomber kills 5 US troops
March 30, 2003
Fresh raids rock Baghdad
March 29, 2003
Airfield in Kurdish area occupied
March 28, 2003
Bloodiest day of war
March 27, 2003
Advani sees Pak hand in massacre
March 26, 2003
Militants massacre 24 in Kashmir
March 25, 2003
Allies zero in on Baghdad
March 24, 2003

Basra, Nasiriyah fall to allies
March 23, 2003

US, UK troops push on to Basra
March 22, 2003