THE TRIBUNE MAGAZINES
On alternate Mondays

On Sundays
On Saturdays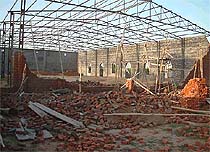 6 die in wall collapse
Rama Mandi (Bathinda), April 6
Five construction workers and the building contractor were killed and three injured when a wall of a marriage palace collapsed here this evening.
A portion of a marriage palace at Rama Mandi after its wall collapsed on Sunday.
— Photo Kulbir Beera
No more films with Salman: Ash


Mumbai, April 6
Popular actress Aishwarya Rai today said the Salman Khan chapter was a "nightmare" in her life and she would "not work with him anymore".
UK sleuths coming to India to find suspect
London, April 6
Scotland Yard plans to send a team of six detectives to India this week to trace a suspect in a murder case who reportedly fled from the UK to Punjab.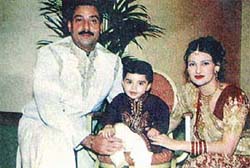 Earlier story on
April 6: Interpol alert as NRI family goes missing

Amarjit Chohan (46), his wife, Nancy (25), and their children, who have been missing from their home in London.
The family hails from India.
Haryana to have defence park
Palwal (Faridabad), April 6
A national-level 'defence park' will be established in Haryana to highlight the role of the state in the defence sector and pay tributes to martyrs who had defended the borders of the country. This was announced by Union Defence Minister George Fernandes after unveiling a statue of the late Devi Lal at Palwal town today.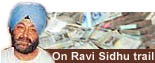 US tanks roll into Baghdad
April 6, 2003

Allies seize Baghdad airport
April 5, 2003
Baghdad airport attacked
April 4, 2003
Allies close in on Baghdad
April 3, 2003

Allies kill 11 unarmed Iraqi civilians
April 2, 2003

Al Qaida-Iraq nexus exposed
April 1, 2003

Suicide attack on US base
March 3

1

, 2003
Suicide bomber kills 5 US troops
March 30, 2003
Fresh raids rock Baghdad
March 29, 2003
Airfield in Kurdish area occupied
March 28, 2003