In Health Tribune Today
HOROSCOPE
THE TRIBUNE MAGAZINES
On alternate Mondays

On Sundays
On Saturdays
IN PASSING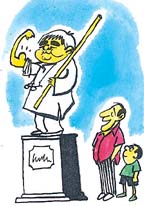 No, he is Lalooji not Gandhiji, my dear!
by Sandeep Joshi
Rajan Kashyap new Punjab Chief Secy


Chandigarh, April 29
Mr Rajan Kashyap will be the new Chief Secretary of Punjab. He will succeed Mr Y. S. Ratra, who retires tomorrow after having availed of a three-month extension.

Ratra to be PSEB chief
Chandigarh, April 29
Punjab Chief Secretary Y.S. Ratra, who retires tomorrow, will be the new Chairman of the Punjab State Electricity Board.
Four die in Manali copter crash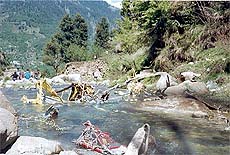 Manali, April 29
A helicopter belonging to a private skiing company crashed at Alani nullah bridge near Preeni, 4 km from here, this morning, killing the pilot and three other passengers.
Wreckage of the VT-HIM helicopter lies scattered in the Alani nullah near Prini village (Manali) after the copter crashed on Tuesday. — Photo M.C. Thakur


Chandigarh page: Pall of gloom at pilot's house
SC reserves verdict on POTA
New Delhi, April 29
The Supreme Court today reserved its judgment on a bunch of petitions challenging the constitutional validity of the controversial Prevention of Terrorism Act, which the states ruled by the opposition parties have refused to implement.


TRIBUNE SPECIAL
80 pc of border health staff found absent
Ramdas (Amritsar), April 29
Even as the world is grappling with the threat of SARS, more than 80 per cent of the staff, including the Senior Medical Officer, of the Primary Health Centre here which caters to 191 villages of the border belt were found absent during a surprise check by the Vigilance Bureau today.

Vigilance sleuths, led by the DSP, Mr Rashpal Singh, check the register at the Primary Health Centre, Ramdas (Amritsar), on Tuesday.
— Photo Rajiv Sharma
A-I charge-sheets 12 pilots
April 29, 2003
Mayawati meets PM over cane price
April 28, 2003
Ultras attack Radio Kashmir complex
April 27, 2003
Day of terror in Kashmir
April 26, 2003
21 crore relief for Uphaar victims
April 25, 2003
PM open to talks on Kashmir issue
April 24, 2003
17 Pak ultras shot in encounters
April 23, 2003
'Politics of revenge' rocks Parliament
April 22, 2003
7 LeT men shot while crossing border
April 21, 2003
Ball in Pakistan's court, says PM
April 20, 2003
PM offers friendship to Pakistan
April 19, 2003
Talks with truckers fail
April 18, 2003
USA blocks Iraq-Syria pipeline
April 17, 2003