HOROSCOPE
THE TRIBUNE MAGAZINES
On alternate Mondays

On Sundays
On Saturdays
IN PASSING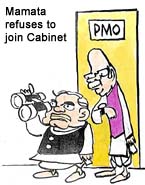 It seems Mamata Express is late again!

by Sandeep Joshi
Let Pervez time his exit as army chief: Jamali
Islamabad, May 24
Pakistan's Prime Minister Zafarullah Khan Jamali has called on the Opposition to stop pressuring President Pervez Musharraf to relinquish his position as head of the armed forces, saying that the General should be allowed to decide the timing of such a move.


Pak oppn predicts national crisis

Pak, USA discuss defence ties
Cop kills Dy Commandant, surrenders
Mumbai, May 24
The CISF constable Raj Namdeo, who shot dead his Deputy Commandant A. Karandekar and took hostage six colleagues, surrendered tonight. Airport officials said Namdeo surrendered at 0040 hrs after he talked to his parents.
No place for tainted: Hanspal


Phillaur, May 24
The Punjab Pradesh Congress Committee chief, Mr H.S. Hanspal, today asserted that there was no place in the party for people with a criminal or a tainted image and only honest and upright Congressmen would be given key party posts.
Apology
Chandigarh, May 24
Apropos the news-item, HC Judge's name included in FIR, published in these columns on May 24, The Tribune tenders an unqualified and unconditional apology. The report was not intended to defame any person or scandalise the judiciary.


Sikh clergy discusses Badal's letter to Akal Takht


Amritsar, May 24
The marathon meeting of the Sikh clergy held at the Akal Takht secretariat here today discussed the one-page letter of Mr Parkash Singh Badal who has reiterated his stand that he has not indulged in any religious misconduct.


Text of Badal's letter

Punjab page: No hurry to arrest Badal: Congress
In Her World today
Ramachandran, Ajit Singh quit Cabinet
May 24, 2003

Minister's PA, IT officer held on graft charges
May 23, 2003

70 pc polling in Fatehabad
May 22, 2003

Ultras slit throats of 2
May 21, 2003

6 of family massacred
May 20, 2003

Reshuffle in offing: PM
May 19, 2003

Mayawati sacks Tripathi
May 18, 2003

Change views on terror, Advani asks Pak
May 17, 2003

Burning train claims 38 lives
May 16, 2003

US to put pressure on Pak
May 15, 2003