THE TRIBUNE MAGAZINES
On alternate Mondays

On Sundays
On Saturdays
IN PASSING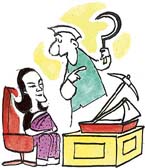 Madam, these gifts are from Mulayam Singhji and Ajitji. You may need these for the forthcoming UP harvest.

by Sandeep Joshi
Amarinder's cousin shot
Midnight drama in Shimla
Shimla, May 30
Ms Padmesh Kaur, a cousin of the Punjab Chief Minister, Capt Amarinder Singh, was shot dead at the Cedar circuit house of the Punjab Government in the small hours of the day, here today. The murder was allegedly committed by Dhiren Walia, caretaker of the farmhouse at Chhatarpur, owned by the brother of the deceased.
CBI to probe sex scandal
Chandigarh, May 30
In less than a week after reports appeared in certain newspapers regarding sexual exploitation of three girls by "influential persons", including politicians, at Amritsar, a Division Bench of the Punjab and Haryana High Court today directed probe by the Central Bureau of Investigation.

Did Samra pose as CBI officer?
Majra Jattan (Balachaur) May 30
Did Dr Gurvinder Singh Samra pose as a CBI officer before police officials posted at the police first aid picket near here after his Toyota Cruiser vehicle rammed into a stationary bus this morning?
Punjab page: Samra shot at: counsel


Solar eclipse: pilgrims throng Brahm Sarovar
Kurukshetra, May 30
Thousands of pilgrims have started thronging the banks of the Brahm Sarovar and Sannehit tanks here on the eve of solar eclipse tomorrow. Sadhus from different parts of the country have pitched up their tents at vantage points on the banks of the two sarovars.

Graphic: TRACKING THE ECLIPSE

Pilgrims take a dip in Sarovar on the eve of the solar eclipse at Kurukshetra on Friday. — Photo Neeraj Chopra
In Sports Tribune today
Vajpayee flays West's doublespeak
May 30, 2003

Atal rejects fresh decision on Kashmir
May 29, 2003

Jamali will hold talks with Vajpayee: Pervez
May 28, 2003

India sets rider for troops to Iraq
May 27, 2003

BJP moots job quota for upper caste poor
May 26, 2003

3 new Cabinet ministers sworn in
May 25, 2003

Ramachandran, Ajit Singh quit Cabinet
May 24, 2003

Minister's PA, IT officer held on graft charges
May 23, 2003

70 pc polling in Fatehabad
May 22, 2003

Ultras slit throats of 2
May 21, 2003