AGRICULTURE
EDUCATION
HEALTH
SCIENCE
CAREER GUIDE
SPORTS
HER WORLD
TRIBUNE CLASSIFIEDS
ASI submits progress report
Lucknow, June 21
The Archaeological Survey of India, which is carrying out an excavation at the disputed site in Ayodhya to ascertain whether a temple existed there before the construction of mosque in the 16th century, today filed its progress report in the court.

Nation page:

Kalyan's charges baseless: BJP

Pejavar Mutt opposes Kanchi seer's mediation

Jaswant, George to call on Kanchi seer today

Troops to Iraq: NDA leaves it to PM
New Delhi, June 21
The National Democratic Alliance today left it to Prime Minister Atal Bihari Vajpayee to take an appropriate decision on the issue of sending troops to Iraq.

Nation page:

Decision on troops for Iraq after PM's return: Advani

Oppn's no to troops for Iraq
Indo-China-Russia axis a possibility?
PM's China visit a signal to Pak
New Delhi, June 21
As Prime Minister Atal Bihari Vajpayee begins his six-day visit to China tomorrow he will use the opportunity to convey a subtle diplomatic message to Pakistan: people-to-people contacts, cultural ties and trade relations are the foundation of a vibrant bilateral relationship.


Harkat, Laden accounts frozen
| | |
| --- | --- |
| | PUNJAB: BSP adamant on Mayawati's visit |
HOROSCOPE
THE TRIBUNE MAGAZINES
On alternate Mondays

On Sundays
On Saturdays
Harry Potter finally arrives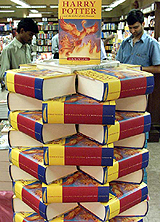 New Delhi, June 21
No midnight revelry and no candle-lighting to herald the release of the much-hyped Harry Potter book, yet fans all over the country crowded bookstores to grab a copy of "Harry Potter and the Order of Phoenix".

The book 'Harry Potter and the Order of the Phoenix' is displayed in a New Delhi shop. The fifth book of the series by author J.K. Rowling was released across India on Saturday. — Reuters photo


Harry Potter on VCD, DVD

World page: Harry Potter weaves magic around globe

Badal meets Vajpayee
Chandigarh, June 21
Former Chief Minister Parkash Singh Badal today reportedly briefed the Prime Minister, Mr Atal Bihari Vajpayee, in Delhi that he and his family are being "targeted" and "mentally" harassed by the Punjab Chief Minister, Capt Amarinder Singh.


No complaint against Chhabra: CS
Maya: stop construction near Taj
Lucknow, June 21
The Uttar Pradesh Chief Minister, Ms Mayawati, has ordered an inquiry into the construction work started without the prior approval of the state government for developing the Taj Heritage Corridor opposite to Taj Mahal in Agra.
Maruti share priced at Rs 125
New Delhi, June 21
With the government fixing a price of Rs 125 per share for divestment of its 25 per cent stake in Maruti Udyog today, the prospects of disinvestment of Nalco and BPCL through the IPO route has brightened and they can hit the market in November.


In Her World today
Muslim board receives Kanchi seer's proposal
June 21, 2003
BJP for LS poll on schedule
June 20, 2003
India blocks Pakistan's entry into ARF
June 19, 2003
Advani debunks Pak claim on terrorism
June 18, 2003
Musharraf backtracks on Kargil, talks peace
June 17, 2003

PM for consensus on sending troops to Iraq
June 16, 2003

Pak intent non-peaceful: MEA
June 15, 2003

Activists vacate Talhan shrine
June 14, 2003

Pak epicentre of terror: Advani
June 13, 2003

2 'skeletons' found, team begins probe
June 12, 2003