AGRICULTURE
EDUCATION
HEALTH
SCIENCE
CAREER GUIDE
SPORTS
HER WORLD
TRIBUNE CLASSIFIEDS
Badal under pressure to snap ties with NDA
New Delhi, July 2
The Shiromani Akali Dal chief and former Punjab Chief Minister Mr Parkash Singh Badal, is under intense pressure to bid adieu to the BJP-led NDA but he is unlikely to take the extreme step.

Punjab page:

SAD, BJP meeting today

NDA team to visit Punjab on July 16
Wimpy case: another notice to
Amarinder Singh
New Delhi, July 2
Issuing notices to Punjab Chief Minister Amarinder Singh, the state government and others for the second time on writ petitions by four employees of Wimpy, an international food chain company, the Delhi High Court today took serious view of the state Vigilance Bureau's action of arresting five company officials here without informing the local police.
HOROSCOPE
THE TRIBUNE MAGAZINES
On alternate Mondays

On Sundays
On Saturdays
IN PASSING

Nitishji, they are providing their services voluntarily.

by Sandeep Joshi
Court raps ASI for seeking extension
Lucknow, July 2
The three-member Lucknow Bench of the Allahabad High Court, hearing the Ram Janmabhoomi-Babri Masjid title suit, today rapped the Archaeological Survey of India for repeatedly seeking extension and reserved its order till tomorrow.
Locus standi of Kanchi seer, Muslim Law Board questioned
New Delhi, July 2
With the Muslim Personal Law Board scheduled to discuss the Kanchi Shankaracharyas's formula for the solution of the vexed Ayodhya issue on July 6, several Muslim and Hindu leaders today questioned their locus standi and termed the initiative as a poll "gimmick".


In video (28k, 56k)

Jagadguru Shankracharya Swami Shri Adhoshyanand Dev Teerathji Maharaj with Muslim priests during the second annual joint meeting of Muslim and Hindu religious leaders to discuss the Ayodhya issue in New Delhi on Wednesday.
— PTI photo

Babas, NGOs to green Punjab
Chandigarh, July 2
Punjab will now utilise the services of babas (religious persons) to enhance the area under forests. The government has banned the planting of exotic trees. Only indigenous species of trees such as kikkar, sheesham, neem, ber will now be planted.
70 border schools given a year to improve
Amritsar, July 2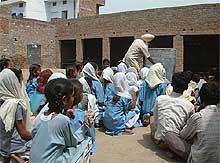 Following poor results, science and commerce subjects have been withdrawn from many border villages of the district and the state government has declared close to 70 schools sick.
A government elementary school in Faizpura (Amritsar) being run in a dharamshala. — photo Rajiv Sharma

In Science Tribune today
'Someone blocking defence procurement'
July 2, 2003
Pak envoy arrives
July 1, 2003
Two die in poll violence
June 30, 2003
12 soldiers killed in suicide attack
June 29, 2003
Vajpayee rejects US roadmap on Kashmir
June 28, 2003
PM calls for India-China 'alliance' in IT
June 27, 2003
Pervez to end infiltration: US official
June 26, 2003
India: Tibet Autonomous Region part of China
June 25, 2003
India, China sign accord
June 24, 2003
PM's China visit to improve ties
June 23, 2003