AGRICULTURE
EDUCATION
HEALTH
SCIENCE
CAREER GUIDE
SPORTS
HER WORLD
TRIBUNE CLASSIFIEDS
Badal challenges Amarinder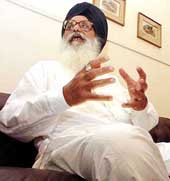 New Delhi, July 4
A day after his meeting with Deputy Prime Minister L K Advani, Akali Dal chief Parkash Singh Badal today challenged the Punjab Chief Minister Capt Amarinder Singh to order a judicial probe and dared him to arrest him.
Mr Parkash Singh Badal talks to newspersons in Delhi on Friday.
— A Tribune photograph

Judge refuses to hear Wimpy's plea
Punjab page:

Badal's petrol station at Killianwali searched

Court allows videography of Badal's house

Advani's statement a BJP move to keep SAD with NDA: Bhattal

Punjab BJP memo to Governor

HOROSCOPE
In Sports Tribune today
THE TRIBUNE MAGAZINES
On alternate Mondays

On Sundays
On Saturdays
IN PASSING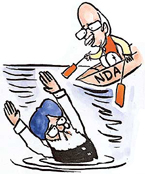 We are here to rescue you from drowning!

by Sandeep Joshi
44 killed in attack on Pak mosque
Islamabad, July 4
In one of the worst attacks on Pakistan's Shiite minority, at least 44 worshippers were killed and over 30 injured today when suspected Sunni extremists exploded a powerful bomb and fired indiscriminately in a mosque during Friday prayers, sparking off riots that forced the government to clamp curfew and call in the army in the north-western city of Quetta.
No compromise on Kashmir: Pervez
Islamabad, July 4
Denying any behind the scenes deals with the USA, Pakistan President Pervez Musharraf, on the last leg of his four-nation foreign tour, has said only a "traitor" could compromise on country's nuclear weapons programme and the Kashmir issue.
Pakistani delegates want direct trade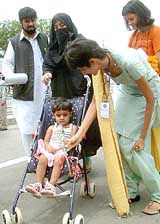 Wagah (Amritsar), July 4
A 58-member delegation of India-Pakistan Chamber of Commerce and Industry crossed over from Wagah joint check post to attend a two-day third executive committee meeting, scheduled to be held from July 7 at New Delhi.

In video (28k, 56k)

A representative of Indian business organisations presents a rose to 7-year-old Aisha, who arrived with her parents from Pakistan, at the Wagah check post on Friday. — PTI photo

Bid to rein in VHP leaders
New Delhi, July 4
Even as the tone and tenor of the VHP leaders gets shriller every passing day in anticipation of a positive reaction of the Muslim community to the Kanchi Seer's proposal, frantic behind the scenes efforts are going on to rein in the spoiled brats of the Sangh Parivar.
RSS distances itself from Singhal's demand

Editorial: Show Singhal his place
Logjam on Iraq issue to be over soon
New Delhi, July 4
The political and diplomatic logjam on the question of India contributing its troops for a stabilisation force in Iraq may be over in the coming days after the discussions Foreign Secretary Kanwal Sibal has had with the United States leadership during his just-concluded Washington visit.


'Custodial death' in Jammu
7 Amritsar youths 'still missing'
Amritsar, July 4
Relatives of Mohan Lal (26), a rickshaw-puller who was allegedly tortured to death by the Jammu police, and residents of Mahal village today blocked traffic for more than five hours at Wagah bypass.

Advani blasts Amarinder
July 4, 2003
18 killed as Golconda Express derails
July 3, 2003
'Someone blocking defence procurement'
July 2, 2003
Pak envoy arrives
July 1, 2003
Two die in poll violence
June 30, 2003
12 soldiers killed in suicide attack
June 29, 2003
Vajpayee rejects US roadmap on Kashmir
June 28, 2003
PM calls for India-China 'alliance' in IT
June 27, 2003
Pervez to end infiltration: US official
June 26, 2003
India: Tibet Autonomous Region part of China
June 25, 2003