AGRICULTURE
EDUCATION
HEALTH
SCIENCE & TECHNOLOGY
CAREER GUIDE
SPORTS
HER WORLD
TRIBUNE CLASSIFIEDS
Pakistan to host SAARC summit
Kathmandu, July 10
The deferred SAARC summit will now be held in Islamabad from January 4. The summit may bring Prime Minister Atal Bihari Vajpayee face to face with the Pakistani leadership, two years after President Pervez Musharraf's dramatic handshake with him here during the last summit.

In video (28k, 56k)

Hope for progress on trade with Pak
Pak envoy presents credentials
New Delhi, July 10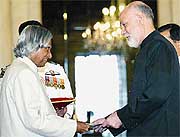 Mr Aziz Ahmed Khan today officially became Pakistan's High Commissioner to India when he presented his credentials to President A.P.J. Abdul Kalam at Rashtrapati Bhavan here.

In video (28k, 56k)
President A.P.J. Abdul Kalam receives the credentials of Pakistan High Commissioner to India Aziz Ahmed Khan at Rashtrapati Bhavan in New Delhi on Thursday.
— PTI photo

NDA team to visit Punjab, says Dhindsa
New Delhi, July 10
Seeking to rubbish reports that the SAD was averse to visit of an NDA team to Punjab, the Union Minister and senior Akali leader, Mr S.S. Dhindsa, said today that the team would be visiting Punjab shortly.
In Career Guide today
HOROSCOPE
THE TRIBUNE MAGAZINES
On alternate Mondays

On Sundays
On Saturdays
IN PASSING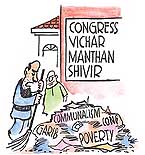 Ok, so here we go, cleaning all the intellectual waste !

by Sandeep Joshi
SAD, BJP train guns on Amarinder

Delhi pradesh BJP president Madan Lal Khurana, Akali leader Sukhdev Singh Dhindsa and senior BJP leader Vijay Kumar Malhotra address a joint press conference in New Delhi on Thursday. — Tribune photo
Govt to sell residual shares in five more companies
Green signal for CAS from September 1
New Delhi, July 10
Encouraged by the resounding success of the initial public offer of the Maruti Udyog Limited and its listing on the BSE and NSE, the government today decided to sell its remaining shares in five other companies, including the VSNL, IPCL and BALCO.


J&K page: Air show enthrals public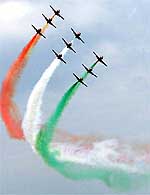 IAF planes release trails of smoke in the colours of the National Flag as they perform during an air show in Srinagar on Thursday.
— Reuters
Personal appearance must for US visa
New Delhi, July 10
The USA has made it mandatory that all persons who apply for the American visa after July 14 will have to appear personally, except for a few notified categories.
SC issues notices to states on admissions to private colleges
New Delhi, July 10
The Supreme Court today issued notices to all states seeking to know their stand on the admissions to unaided private and minority professional colleges, while referring a bunch of petitions to a five-judge constitution Bench for the correct interpretation of its earlier order on the right of such institutions.
Kala Afghana excommunicated
Amritsar, July 10


The Sikh clergy today excommunicated Canada-based cop-turned-controversial Sikh scholar and close aide of Sant Jarnail Singh Bhindranwale, Gurbax Singh Kala Afghana, from the Sikh Panth for his "blasphemous acts".
Cong open to pacts with secular parties
July 10, 2003
Cong for quota in private sector
July 9, 2003
Cong ready for poll: Sonia
July 8, 2003
Muslim board rejects formula
July 7, 2003
Give Ayodhya, Mathura, Kashi to Hindus: RSS
July 6, 2003
J&K minister hurt in attack
July 5, 2003
Advani blasts Amarinder
July 4, 2003
18 killed as Golconda Express derails
July 3, 2003
'Someone blocking defence procurement'
July 2, 2003
Pak envoy arrives
July 1, 2003