AGRICULTURE
EDUCATION
HEALTH
SCIENCE & TECHNOLOGY
CAREER GUIDE
SPORTS
HER WORLD
TRIBUNE CLASSIFIEDS
Nitish adamant, crisis in Samata deepens


New Delhi, July 15
Railway Minister and Samata Party leader Nitish Kumar today ruled out taking back his resignation despite pleas by his party President and NDA Convener, George Fernandes in this regard.
Law on temple may figure at BJP meet
New Delhi, July 15
In an obvious attempt to please every possible constituency of the Ayodhya issue, the Bharatiya Janata Party today again hinted at taking up the issue of a parliamentary legislation for the construction of Ram temple in Ayodhya at its Raipur meeting of the National Executive beginning Friday.


Editorial: No third way
Terrorism is an issue, says Menon
Wagah (Amritsar), July 15


Describing cross-border terrorism as an issue, Mr Shivshankar Menon, India's High Commissioner-Designate to Pakistan, crossed over to Pakistan through Wagah joint check post here at noon today.
In Health Tribune today
HOROSCOPE
THE TRIBUNE MAGAZINES
On alternate Mondays

On Sundays
On Saturdays
IN PASSING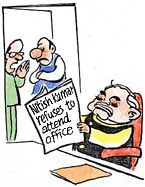 What kind of derailment is this? No causality, no damage and yet he is worried.

by Sandeep Joshi
Hardliner Fazlur Rahman in India
Wagah (Amritsar), July 15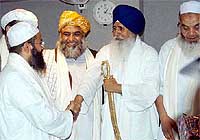 Four-member delegation of the Mutahida-e-Majlis-e-Amal led by Maulana Fazlur Rahman, secretary-general of the Jamat Ulema Islami (Fazlur), entered India through the Wagah joint check post here today.
Maulana Fazlur Rehman, leader of the four-member Pakistani Parliamentarian delegation of Jamiat Ulema-e-Islam, introduces his delegation members to the Akal Takht chief, Jathedar Joginder Singh Vedanti, at the Golden Temple complex in Amritsar on Tuesday.
— PTI photo

Maya seeks Amarinder's sack
Chandigarh, July 15


Uttar Pradesh Chief Minister Mayawati today asked the Centre and the Punjab Governor, Justice O. P. Verma, to dismiss the Amarinder Singh government for "infringing upon the Constitutional rights" of the Dalits.
Badungar may offer to quit today


Ludhiana, July 15
The Shiromani Gurdwara Parbandhak Committee President, Mr Kirpal Singh Badungar, may offer to resign to pave way for the re-election of veteran Akali leader Mr Gurcharn Singh Tohra or his nominee as President of the SGPC, the apex body that controls most Sikh gurdwaras.


Sehajdharis barred from SGPC elections


Noor's heart surgery a success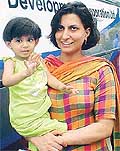 Bangalore, July 15
Two-and-a-half-year-old Noor Fatima, the Pakistani girl whose heart ailment has generated emotions across the Indo-Pak divide, today underwent a successful surgery for plugging holes in her heart in a city hospital.

In video: (28k, 56k)

A file photo of Noor with her mother
No Indian troops for Iraq
July 15, 2003
Musharraf has vested interest in instability: Gujral
July 14, 2003
India rejects Pak terms for resuming air links
July 13, 2003
Peace journey begins
July 12, 2003
VP Singh: Bajrang Dal, RSS following ISI agenda
July 11, 2003
Cong open to pacts with secular parties
July 10, 2003
Cong for quota in private sector
July 9, 2003
Cong ready for poll: Sonia
July 8, 2003
Muslim board rejects formula
July 7, 2003
Give Ayodhya, Mathura, Kashi to Hindus: RSS
July 6, 2003