AGRICULTURE
EDUCATION
HEALTH
SCIENCE & TECHNOLOGY
CAREER GUIDE
SPORTS
HER WORLD
TRIBUNE CLASSIFIEDS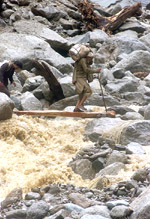 Rain, terrain hamper rescue work
Kulu, July 17
Intermittent rain and a hostile terrain hampered rescue and search operations at the flash flood site triggered by the cloud burst at Pulia Nallah in this district today.

A worker of a power plant walks on a makeshift bridge as heavy rain forced suspension of rescue operations at Pulia Nullah in Kulu district on Thursday.
— Reuters photo

Kalam grieved over Kulu deaths

Himachal page: Cloudburst toll 105, claims CM

Editorial: Cloudburst in Kulu
US warships being refuelled in India, admits Blackwill
New Delhi, July 17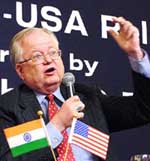 The USA today acknowledged for the first time that its warships were being refuelled in Chennai and Mumbai conveying the solid pyramid base on which "the Indo-US strategic relations are now standing."

Outgoing US Ambassador to India Robert D. Blackwill addresses captains of Indian industry at a function organised by the CII in Delhi on Thursday.
— Tribune photo Mukesh Aggarwal

In Career Guide today
HOROSCOPE
THE TRIBUNE MAGAZINES
On alternate Mondays

On Sundays
On Saturdays
IN PASSING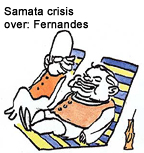 Relax till the next crisis
by Sandeep Joshi
No ill will on India's decision, says Blackwill
Annan's remarks draw guarded response
New Delhi, July 17
India today reacted guardedly to UN Secretary General Kofi Annan's remarks that the Security Council might issue an appeal to member states to contribute troops to Iraq, saying these are "developing circumstances".
Stick to Simla pact, says Rehman
New Delhi, July 17
A prominent radical party in Pakistan has rejected President Pervez Musharraf's demand for third party intervention to settle the Kashmir issue and favoured its resolution in accordance with the Simla Accord.
Nitish Kumar resumes office
New Delhi, July 17
Mr Nitish Kumar, who had quit as Railway Minister following attack on him by his detractors in the Samata Party, withdrew his resignation today and resumed work at Rail Bhavan.
Nation page: Samata ministers to face Oppn ire
Bhaur quits SGPC to pave way for Tohra
Amritsar, July 17
Mr Sukhdev Singh Bhaur today resigned as an executive member of the SGPC to pave the way for the election of Mr Gurcharan Singh Tohra as the SGPC chief.
SGPC staff allotted temple land
Badal's Sirsa farmhouse raided
Search of Orbit Resort ends
Sirsa, July 17
Intensifying their search of properties owned by former Punjab Chief Minister Parkash Singh Badal and his family members, Punjab Vigilance Bureau officials today raided Mr Badal's farmhouse at Balasar, near here.


Defence families will have to shell out more
Chandigarh, July 17
The families of defence personnel in Punjab will have to shell out a minimum of Rs 100 to Rs 150 per month more than their civilian counterparts as the taxation laws revised by the Punjab Government yesterday become effective later this month.
150 feared washed away in Kulu cloudburst
July 17, 2003
MiG-21 explodes
July 16, 2003
No Indian troops for Iraq
July 15, 2003
Musharraf has vested interest in instability: Gujral
July 14, 2003
India rejects Pak terms for resuming air links
July 13, 2003
Peace journey begins
July 12, 2003
VP Singh: Bajrang Dal, RSS following ISI agenda
July 11, 2003
Cong open to pacts with secular parties
July 10, 2003
Cong for quota in private sector
July 9, 2003
Cong ready for poll: Sonia
July 8, 2003