HC stays proceedings in Ayodhya case
Lucknow, August 5
The Allahabad High Court today passed an interim order staying till September 24 the proceedings in the special CBI court trying Ayodhya demolition cases against 26 accused, including Deputy Prime Minister L.K. Advani and Union HRD Minister Murli Manohar Joshi.


No interference in CBI working, says PM


In video: BJP members demand a bill in Parliament, authorising the construction of a temple in Ayodhya. (28k, 56k)

Pesticides found in Coke, Pepsi
New Delhi, August 5
In a startling revelation, the Centre for Science and Environment today said aerated waters produced by soft drinks manufacturers, including multinational giants Pepsico and Coca-Cola, contain pesticides and insecticides.


Soft drink giants refute findings
Lyngdoh against simultaneous elections


New Delhi, August 5
Chief Election Commissioner J M Lyngdoh today virtually rejected a proposal for holding simultaneous elections to the Lok Sabha and state Assemblies, stating that it was unconstitutional.
HOROSCOPE
THE TRIBUNE MAGAZINES
On alternate Mondays

On Sundays
On Saturdays
IN PASSING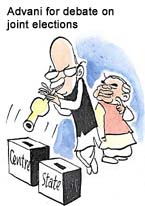 by Sandeep Joshi
Children beaten up, kicked in Amritsar school
Amritsar, August 5
A case of corporal punishment by a teacher has come to light. Nearly 60 minor children studying in VIII standard of Government Senior Secondary School at Chheharta, were allegedly severely beaten up by the drawing teacher with a stick.
A student shows scars on his back as a result of the corporal punishment in Government Senior Secondary School, Amritsar, on Tuesday.
— Tribune photo Rajiv Sharma
3 tribal girls sold for Rs 2,000 each
Nawanshahr, August 5
Like hundreds of others, three minor tribal girls from Jharkhand were allegedly sold for Rs 2000 each. But, unlike others, they were fortunate enough to escape from the clutches of influential agents to narrate their harrowing experience.
Manjit Singh Calcutta made SGPC Chief Secy
Bhaur reinducted into executive panel


Amritsar, August 5
In violation of the directives of Sikh Gurdwara Judicial commission, the SGPC executive committee today appointed Mr Manjit Singh Calcutta (65), a confidant of Mr Gurcharn Singh Tohra and Sikh scholar as chief secretary (honorary) of the committee.
Indian police officer killed in Kosovo
United Nations, August 5
In the first-ever fatal shooting of a UN officer since Kosovo came under its control four years ago, an Indian police officer was killed in a sniper attack at Stalina village, 45 km from capital Pristina.


In Health Tribune today
PM to quit rather than act under pressure
August 5, 2003
PM: no change in stand on Ayodhya
August 4, 2003
Advani: govt for simultaneous LS, Assembly poll
August 3, 2003
PM, Advani vow to build Ram temple
August 2, 2003
Babri tapes rock Parliament
August 1, 2003
No speech of Advani in Babri tapes
July 31, 2003
Mayawati eats her words
July 30, 2003
US Gen to plead for troops
July 29, 2003
Interest rate on farm loans cut
July 28, 2003
Japan clears troops for Iraq
July 27, 2003