HOROSCOPE
Editorial: Maya's parting shot


Swami for President's rule in UP
BJP leaves decision to Governor
New Delhi, August 26
"President's rule should be imposed in Uttar Pradesh as the Mayawati government has been reduced to a minority," said the Minister of State for Home Affairs, Mr I.D. Swami, thus clearly indicating the line of thinking of the Vajpayee government on the present crisis in the state.
Attempt to destabilise nation, says Advani
Mumbai, August 26
Visiting Mumbai a day after the bomb blasts which claimed 52 lives, Deputy Prime Minister L.K. Advani today said that the proxy war waged by Pakistan was not only directed at Jammu and Kashmir, Punjab or Delhi, but also aimed at destabilising the whole country.
Deputy Prime Minister L. K. Advani inspects the site of a bomb blast at a market in Mumbai on Tuesday.
— Reuters photo
In video (28k, 56k)
In Health Tribune today
THE TRIBUNE MAGAZINES
On alternate Mondays

On Sundays
On Saturdays
IN PASSING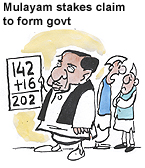 He has all the makings of a maths professor!

by Sandeep Joshi
Sonia visits blast victims

Bush condemns blasts

Editorial:
A city bounces back
Mumbai moves on after twin blasts
Four arrested, death toll 52
Mumbai, August 26
Mumbai was back on its feet today, a day after two bomb blasts threw the country's financial capital into a state of panic. The city's lifeline, the local trains, were packed to capacity as nearly five million office-goers returned to work in the morning.

Five-year-old Harsh Solanki, looks at a building damaged by a bomb blast in south Mumbai on Tuesday. Solanki had stitches put in his hand after receiving a severe cut from a flying piece of glass.
— Reuters photo
In video: Indian shares scored early gains on Tuesday, rising by nearly one per cent, as investors shrugged off the twin blasts in Mumbai. (28k, 56k)

Modi's presence perceived as threat to security
PM opens Inter-State Council meeting today
Srinagar, August 26
Even as 18 Chief Ministers arrive here tomorrow to participate in the two-day Inter-State Council meeting, the presence of Gujarat Chief Minister Narendra Modi is being perceived as a possible threat to "security, peace and communal amity".
A CRPF soldier walks past the billboard with the picture of the Prime Minister in Srinagar on Tuesday. — Tribune photo Amin War
Mumbai panics as twin blasts kill 46
August 26, 2003
Mufti for opening of border posts at Uri, Suchatgarh
August 25, 2003
Centre clears new pension scheme
August 24, 2003
Sushma Swaraj clears the air
August 23, 2003
Sushma Swaraj gives clean chit to Pepsi, Coke
August 22, 2003
20 hurt as police clashes with Khanna supporters
August 21, 2003
No-trust motion defeated
August 20, 2003
Oppn charges govt with all-round failure
August 19, 2003
Battlelines drawn for no-trust vote
August 18, 2003
'Bought brides' of Punjab face societal wrath
August 17, 2003