HOROSCOPE
An Army jawan inspects a damaged bus which was hit by a landmine at Charsoo, 35 km south of Srinagar, on Tuesday.
— Tribune photo by Amin War
Vigilance raid on HP varsity; VC booked
Governor orders probe
Shimla, September 2
Soon after polling for the Students Central Association had ended, vigilance men raided various offices of Himachal Pradesh University to seize records pertaining to inquiries against the Vice-Chancellor, Dr S.D. Sharma. A case under Section 13(2) of the Prevention of Corruption Act and Sections 420, 468 and 471 of the IPC has been registered against the VC, a Deputy Registrar and some other officials.

Himachal page:

Decision to send back Registrar reversed

Teaching suspended in HP varsity
Rights panel to rescue of minor raped in custody
Exhume child's body for DNA tests, says order
Chandigarh, September 2
It's a sad tale of things suddenly going wrong for a minor, who was first allegedly raped for months by a police constable and then booked for concealing the body of her girl child, whom she delivered dead some days ago.
TRIBUNE SPECIAL
State of universities
The Tribune has a close look at the state of universities in Punjab, Haryana and
Himachal Pradesh

In Health Tribune today
THE TRIBUNE MAGAZINES
On alternate Mondays

On Sundays
On Saturdays
IN PASSING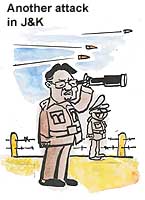 The situation across border is improving.

by Sandeep Joshi
NGO: 5,000 sex slaves whom officials call
'bought brides'
Faridabad, September 2
After yesterday's recovery of five girls brought from Assam and West Bengal and sold in the Hathin area of Mewat region, the authorities concerned have been trying to justify the "illegal" marriages and human trafficking.
Liberhan panel issues NBW against Kalyan
New Delhi, September 1
Taking a serious view of former Uttar Pradesh Chief Minister Kalyan Singh's failure to appear before it to depose as a witness, the Liberhan Commission probing the demolition of Babri Masjid, today issued non-bailable warrant against him and directed the authorities to ensure his presence on September 23 and 24.
NDA team to assess law and order in Punjab
Shalla Pattan (Gurdaspur), September 2
If the law-and-order situation continued to deteriorate, the Central Government might impose President's rule in Punjab by evoking article 356 of the Constitution, according to Mr Vinod Khanna, Minister of State for Foreign Affairs.


Vinod Khanna enthrals crowd

Mr Vinod Khanna, Minister of State for Foreign Affairs, addresses the crowd while senior BJP and SAD leaders, including Mr Parkash Singh Badal, sit on the dais at the protest rally organised at Shalla Pattan in Gurdaspur district on Tuesday.
— Photo Harpreet Singh.



Report blames MiG-21 crash on
trainee pilot
New Delhi, September 2
The Indian Air Force said today that the July 14 crash of the MiG-21 (Type 69) trainer aircraft in Srinagar in which two pilots were killed was due to an error in judgement of the trainee pilot.
SC refuses to stay Babri trial
September 2, 2003

Five arrested for Mumbai blasts
September 1, 2003
Mastermind of Parliament attack Gazi Baba killed
August 31, 2003
582-cr package for J&K
August 30, 2003
Article 356 to be used only with safeguards
August 29, 2003
39 killed in Nashik stampede
August 28, 2003
Mayawati resigns, Mulayam stakes claim
August 27, 2003
Mumbai panics as twin blasts kill 46
August 26, 2003
Mufti for opening of border posts
August 25, 2003
Centre clears new pension scheme
August 24, 2003
Sushma Swaraj clears the air
August 23, 2003