HOROSCOPE
TRIBUNE SPECIAL

State of universities
The Tribune has a close look at the state of universities in Punjab, Haryana and
Himachal Pradesh

No expansion till poll, says PM

New Delhi, September 8
Prime Minister Atal Bihari Vajpayee said today that this was the last expansion of his Council of Ministers till the next Lok Sabha elections. Replying to newspersons' questions after the 14th Cabinet expansion in which he re-inducted Trinamool Congress leader Mamata Banerjee and MDMK leader Gingee Ramachandran, into the Council of Ministers, Mr Vajpayee said, "It is the last.
Mulayam wins trust vote by huge majority
Lucknow, September 8


Aided by BSP rebels, Uttar Pradesh Chief Minister Mulayam Singh Yadav tonight comfortably won the vote of confidence in the state Assembly with a huge margin of 90 votes. Mr Yadav's confidence motion secured 244 votes in its favour and 154 against in a House of 401.
Apex court rejects BSP petition against Governor
New Delhi, September 8
The Supreme Court today dismissed a petition by the BSP challenging the action of Uttar Pradesh Governor Vishnu Kant Shastri inviting Samajwadi Party leader Mulayam Singh Yadav to form the government after the Mayawati ministry was reduced to a minority.
Sharon reaches Delhi, Pak shows concern
New Delhi, September 8
Mr Ariel Sharon, the first Israeli Prime Minister to set foot on the Indian soil, arrived here tonight amid tight security on a historic visit that is expected to forge a strategic alliance and consolidate political and defence ties with the Jewish state.
CAST YOUR VOTE
Can India build better ties with Israel without alienating the Palestinians?

In Education Tribune today
THE TRIBUNE MAGAZINES
On alternate Mondays

On Sundays
On Saturdays
IN PASSING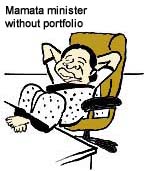 Minister without responsibility.

by Sandeep Joshi
Indo-Israel-US axis may emerge
New Delhi, September 8
The visit of Mr Ariel Sharon, the first ever by an Israeli Prime Minister to India, is being viewed as significant not only from the point of view of the relations between the two countries getting stronger but also from the fact of a possible Indo-Israel-US axis emerging in the future.



Graphic: Sharon's Programme



Israeli Prime Minister Ariel Sharon arrives in New Delhi on Monday.
— Reuters photo
Quota on economic criterion now likely
Upper caste poor to benefit
New Delhi, September 8
The Vajpayee government is likely to take a major decision within a week for reserving government jobs for the poor among upper castes on the economic criterion. A Group of Ministers, recently formed by Prime Minister Atal Bihari Vajpayee under the chairmanship of Deputy Prime Minister L.K. Advani, is to meet shortly to deliberate on the issue, well-placed sources said today.


16 released youths reach Wagah
Wagah, September 8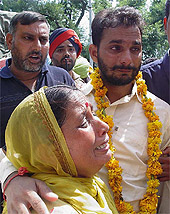 After their nightmarish stay in various jails of Pakistan, 16 youths from Punjab and Haryana today returned to India. After reuniting with their families, the youths pledged never to look for greener pastures abroad.


Tears flow as Kehar Singh, one of the 16 Indian youths released by Pakistan, reunites with his family at the Wagah joint checkpost on Monday. — Photo by Rajiv Sharma

Mamata to be reinducted into Cabinet today
September 8, 2003

8 killed in Srinagar blast
September 7, 2003

BSP heads for split
in UP
September 6, 2003

Kalam calls for second Green Revolution
September 5, 2003

Govt clears 8000-cr Hawk deal
September 4, 2003

Day of terror in J&K
September 3, 2003

SC refuses to stay Babri trial
September 2, 2003

Five arrested for Mumbai blasts
September 1, 2003
Mastermind of Parliament attack Gazi Baba killed
August 31, 2003
582-cr package for J&K
August 30, 2003