HOROSCOPE
Israel for trilateral axis with India, USA

Road to Washington (Editorial)

PM phones Sharon to flay blasts

One held for hoax attack call on Sharon (Nation page)

Indo-Israeli defence ties worry Pak (World page)



India, Israel to collaborate in space technology
New Delhi, September 10
After defence and counter-terrorism, another field which will see India and Israel come together in a big way is space technology.
Hamas leader survives attack; son, guard killed
Jerusalem, September 10

Hours after two deadly Palestinian suicide bombings killed at least 16 persons, Israel retaliated today with an air attack on radical Hamas leader Mahmoud Zahar's home, killing his son and bodyguard in tit-for-tat strikes that plunged the West Asia peace hopes into turmoil.

Palestinians search the rubble of Hamas leader, Mahmoud al-Zahar's house, after an Israeli missile strike in the Gaza Strip on Wednesday. — Reuters photo
PUNJAB: SAD may seek no-trust motion


NATIONAL CAPITAL REGION: 83 MPs owe MTNL Rs 2.2 crore


CHANDIGARH:
Encroachments removed at Kaimbwala


LUDHIANA: Nine held in sarpanch murder case


EDIT: Road to Washington


BUSINESS: NFL selloff gets jolt


SPORTS: Balaji's 5-wkt haul in vain

In Science & Technology today
TRIBUNE SPECIAL

State of universities
The Tribune has a close look at the state of universities in Punjab, Haryana and
Himachal Pradesh

THE TRIBUNE MAGAZINES
On alternate Mondays

On Sundays
On Saturdays
IN PASSING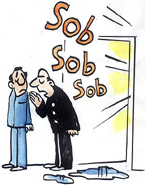 How do you know Mamata Di is sitting in this room?
by Sandeep Joshi
Activists storm venue as WTO conference opens
Jaitley spearheads alliance against EU, US
Cancun, September 10
A conference of WTO Ministers opened here today amidst protests from hundreds of slogan-shouting anti-globalisation activists storming into the venue and a strong plea for evolving a trade policy that does not aggravate poverty.
Ministry alerts missions in Gulf about sex tourism
New Delhi, September 10
The Ministry of External Affairs has alerted its missions in the Gulf region to exercise care while issuing visas to prevent sex tourism and temporary marriages by Arab tourists in India.
Virendra Singh replaced as UT Adviser


Chandigarh, September 10
The Adviser to the UT Administrator, Mr Virendra Singh, was transferred from Chandigarh following the orders of the Union Ministry of Home Affairs, late this evening. Till a replacement is found, the Home Secretary, Mr Raminder Singh Gujral, has been given the charge of Adviser in addition to his existing duties, sources confirmed.


2 missing cricketers arrive in Amritsar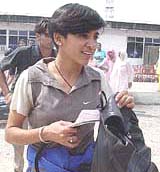 Rajasansi (Amritsar), September 10
In a dramatic turn to the sensational case of five Indian women cricketers who went missing after reaching England, two of the girls, Rajwant Kaur and Parvesh Rani, landed at Rajasansi International Airport along with other members of the team by Turkmenistan Airlines here today.

Parvesh Rani, one of the five cricketers who went missing, at Rajasansi airport in Amritsar on Wednesday. — Tribune photo by Rajiv Sharma


Women cricketers to file complaint against manager

India, Israel to fight global terrorism
September 10, 2003

Mamata returns sans portfolio
September 9, 2003

Mamata to be reinducted into Cabinet today
September 8, 2003

8 killed in Srinagar blast
September 7, 2003

BSP heads for split
in UP
September 6, 2003

Kalam calls for second Green Revolution
September 5, 2003

Govt clears 8000-cr Hawk deal
September 4, 2003

Day of terror in J&K
September 3, 2003

SC refuses to stay Babri trial
September 2, 2003

Five arrested for Mumbai blasts
September 1, 2003