14 killed, 12 hurt in J&K
Srinagar, September 16

Fourteen persons, including nine militants and two security personnel, were killed and 12 others wounded as militants stepped up violence across Jammu and Kashmir today even after suffering a major blow to their plans when security forces busted eight of their hideouts recovering a huge cache of arms and ammunition.
A BSF jawan carries polythene bags containing explosives and grenades recovered from an underground hideout of the JEM outfit, smashed during an operation at Gojiwara in downtown Srinagar, on Tuesday. — PTI photo

Advani may resign in case of adverse verdict
BJP contingency plan in Babri demolition case
New Delhi, September 16
The Rashtriya Swyamsevak Sangh, in close association with the BJP leadership, is working on a 'contingency plan' to meet the challenge of a possible adverse verdict on September 19 in the Special Court in Rae Bareli, hearing the Babri masjid demolition case.


Nation page: SC verdict in Advani's favour
In Health Tribune today
HOROSCOPE
TRIBUNE SPECIAL

State of universities
The Tribune has a close look at the state of universities in Punjab, Haryana and
Himachal Pradesh

THE TRIBUNE MAGAZINES
On alternate Mondays

On Sundays
On Saturdays
IN PASSING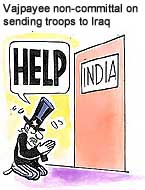 by Sandeep Joshi
PM arrives in Turkey


Ankara, September 16
Prime Minister Atal Bihari Vajpayee arrived here today on a three-day visit to Turkey to strengthen India's trade and political relations with this country.


Graphic: PM's foreign trip
Vajpayee to focus on menace of terror
New Delhi, September 16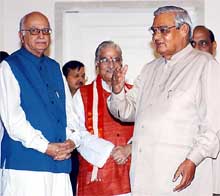 Prime Minister Atal Bihari Vajpayee today left for a crucial 13-day foreign tour to Turkey and the UN where, among other things, he would be focusing on the menace of international terrorism.

Prime Minister Atal Bihari Vajpayee with Deputy Prime Minister L. K. Advani and other Cabinet colleagues before his departure for a tour of Turkey and New York at IGI Airport in New Delhi on Tuesday. — PTI photo

NDA allies ground move on contract jobs in Air-India
New Delhi, September 16
The setting up of Air-India Charters Limited, a wholly-owned subsidiary of Air India, has hit a serious roadblock with the Shiv Sena and certain other allies of the BJP-led NDA government opposing jobs in the AICL on contractual basis.
HP to take action against benami transactors
Solan, September 16
Expressing concern over the spurt in benami transactions in Himachal Pradesh, the Chief Minister, Mr Virbhadra Singh, today said the state would not only make laws more stringent, but also resume such properties, and convert these into public-utility buildings.


Counter-insurgents feel deserted
Victims of govt's use-and-discard policy
Srinagar, September 16
They fought against militancy in Kashmir, but are now falling prey to the militants' bullets themselves, thanks to the "opportunistic use-and-discard-policy" adopted towards counter-insurgents by the Centre as well as the Jammu and Kashmir Government.


Papa Kishtwari talks to The Tribune at his residence. —Tribune photo by Amin War

Editor's column
It's Modi versus Rule of Law — Beware, the Supreme Court is watching........ by H.K. Dua — On Edit page

Dara, 12 others convicted for killing Staines
September 16, 2003

India threatens to walk out of meeting
September 15, 2003

Kukka Parray shot dead
September 14, 2003

Quit if you can't protect citizens, SC tells Modi govt
September 13, 2003

Al-Qaida vows more attacks
September 12, 2003


India, Israel vow to end terror
September 11, 2003

India, Israel to fight global terrorism
September 10, 2003

Mamata returns sans portfolio
September 9, 2003

Mamata to be reinducted into Cabinet today
September 8, 2003

8 killed in Srinagar blast
September 7, 2003