THE TRIBUNE MAGAZINES
On alternate Mondays

On Sundays
On Saturdays
IN PASSING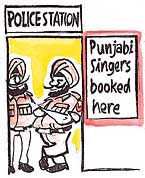 by Sandeep Joshi
PDP leader among six killed
Srinagar, November 4
A People's Democratic Party leader and a jawan were among six persons killed in militancy-related incidents in Jammu and Kashmir since last night, an official spokesman said here today.

Mourners offer prayers near the coffin of Ghulam Mohammad Ganai, a senior member of the People's Democratic Party, in Pampore, 15 km south of Srinagar, on Tuesday. Ganai was shot dead by militants. — Reuters pages
9 convicted in Hashmi case
Ghaziabad, November 4
A local court has convicted nine persons for the murder of noted theatre activist Safdar Hashmi here 14 years ago. Additional District Sessions Judge C D Rai yesterday found the accused guilty after examining about 24 witnesses and will sentence them on Wednesday.


Editorial: Murders most foul

Report indicts Himachal varsity VC
Shimla, November 4
Mr Arvind Kaul, Chief Secretary, submitted the report of the inquiry conducted by him into the allegations against Dr S.D. Sharma, Vice-Chancellor of Himachal Pradesh University, to the Governor, Mr V.S. Kokje, here today.


First abandoned, then found carrying HIV
Prayers to save little Nikita
Jalandhar, November 4
She is too innocent to know why nature has played such a dual cruel joke with her, first by having been abandoned in fields and then by having detected to be HIV positive at the tender age of about two months.
Sushil Sharma convicted
November 4, 2003

3 killed, 40 hurt in Gujarat violence
November 3, 2003

We'll test Pak sincerity, says PM
November 2, 2003

India scalp Pak for hockey gold
November 1, 2003

Kashmir-specific proposals rejected
October 31, 2003
Pak accepts proposals, but harps on Kashmir
October 30, 2003

1 dead, 37 hurt in Srinagar CTO blast
October 29, 2003

Series of explosions rock Baghdad, 37 dead
October 28, 2003

Pak response to peace moves by next week
October 27, 2003

Talks not at cost of unity, says Advani
October 25, 2003

Hurriyat cautious
October 24, 2003