THE TRIBUNE MAGAZINES
On alternate Mondays

On Sundays
On Saturdays
IN PASSING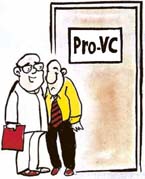 The post of pro-VC should be redesignated anti-VC.
by Sandeep Joshi
Transfer of 22 DSPs cancelled

No move to replace DGP Siddiqui
Jind NGO wants to adopt, treat Nikita
Jalandhar, November 5
Within hours of highlighting the plight of a two-month HIV-positive baby, Nikita, by The Tribune in its columns today, Apna Ghar, a Jind-based NGO run by Ms Serla Ben, has come forward to adopt and treat the child at its naturopathy centre.
Charles meets Diana's lookalike
Mumbai, November 5
It could have been an awkward moment for Prince Charles, but he shook hands with a Lady Diana lookalike and moved on to other guests at a reception hosted in Mumbai yesterday evening.
NRI's murder cuts short celebrations
Dera Sajda (Sultanpur Lodhi), November 5
Barely 10 days after his acquittal in a murder case by a Toronto court, the family members of a 36-year-old NRI, Salwinder Singh Dhillon, hailing from this village, got the news that he had been shot dead by two assailants. Dhillon had left for Canada in 1989 and settled in Toronto.
Family members of Salwinder Singh Dhillon, who was shot dead in Toronto on Monday, mourn his death at his native house at Dera Sajda village in Kapurthala district on Wednesday. — Photo by S.S. Chopra
A correction
The photograph used with the report ''Malik confesses to Kanishka bombing, says witness'' on the Index page yesterday was not of Ripudaman Singh Malik but of somebody else. The error is regretted.
Lankan Parliament suspended
November 5, 2003


Sushil Sharma convicted
November 4, 2003

3 killed, 40 hurt in Gujarat violence
November 3, 2003

We'll test Pak sincerity, says PM
November 2, 2003

India scalp Pak for hockey gold
November 1, 2003

Kashmir-specific proposals rejected
October 31, 2003
Pak accepts proposals, but harps on Kashmir
October 30, 2003

1 dead, 37 hurt in Srinagar CTO blast
October 29, 2003

Series of explosions rock Baghdad, 37 dead
October 28, 2003

Pak response to peace moves by next week
October 27, 2003