HOROSCOPE
THE TRIBUNE MAGAZINES
On alternate Mondays

On Sundays
On Saturdays
IN PASSING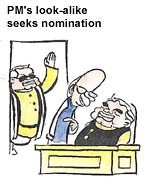 Atalji, should we send him to the 'sensitive' states?

by Sandeep Joshi
6 die in US chopper crash in Iraq
Tikrit (Iraq), November 7
An American Black Hawk helicopter crashed near Saddam Hussein's hometown in Iraq today, killing all six persons on board. US soldiers said it had probably been shot down with a rocket-propelled grenade.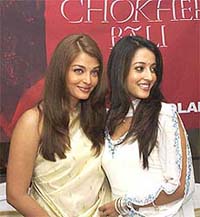 Bollywood actress Aishwarya Rai and Raima Sen at a press conference after a screening of their film, "Chokher Bali", in Mumbai on Thursday. — PTI
Probe ordered into tea garden killings
Kolkata, November 7
Chief Minister Buddhadeb Bhattacharjee today turned down the demand for a judicial probe and ordered a magisterial inquiry into the gruesome killings at the Birpara Dalgaon tea estate, following a feud between two rival groups of CPM's labour front CITU.
Editorial: Gory violence
PM defends pace of reforms
London, November 7
Prime Minister Atal Bihari Vajpayee has said that reforms carried out in a democratic country like India are more deeply rooted and sustainable, and democracy cannot be blamed for impeding reforms.
Rethink on Chief of Defence Staff
New Delhi, November 7
Almost three years after the idea was first mooted, India may get its first Chief of Defence Staff in the coming months with not only the inter-services differences having been resolved but even the political leadership of the country shedding some of its insecurity.
Nation page: Entire LoC to be fenced: Army chief
Raids detect tax evasion worth crores
Amritsar, November 7
For the second consecutive day, the high powered four teams of the Excise and Taxation Department today conducted raids on big business houses in Tarn Taran and Amritsar, detecting tax evasion and irregularities worth several crores.
19 hacked, burnt in tea garden clash
November 7, 2003


Emergency in Lanka
November 6, 2003


Lankan Parliament suspended
November 5, 2003


Sushil Sharma convicted
November 4, 2003

3 killed, 40 hurt in Gujarat violence
November 3, 2003

We'll test Pak sincerity, says PM
November 2, 2003

India scalp Pak for hockey gold
November 1, 2003

Kashmir-specific proposals rejected
October 31, 2003
Pak accepts proposals, but harps on Kashmir
October 30, 2003

1 dead, 37 hurt in Srinagar CTO blast
October 29, 2003