THE TRIBUNE MAGAZINES
On alternate Mondays

On Sundays
On Saturdays
IN PASSING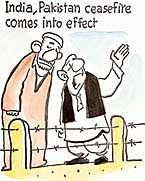 I know it's hard to sleep in this silence. Have patience, Pakistan will soon open fire.
by Sandeep Joshi
Nation page: Ceasefire could lead to solution, says Fernandes
CAT on February 15
Ahmedabad, November 26
The retest for the cancelled common admission test for the prestigious Indian Institutes of Management will be held on February 15 next year, IIM-A Director Bakul Dholakia said here today. The much-awaited fresh date was announced in a joint statement by the directors of six IIMs after a day-long meeting.

In video (28k, 56k)
Cast vote and lose hands, warn Maoists
Raipur, November 26


Maoist guerrillas in Chhattisgarh have threatened to chop off the hands of people who dared to vote in the Assembly poll on December 1. Outlawed Maoist groups operating in six districts of Chhattisgarh have issued this warning, police officials say.
Vehicles burnt, factory damaged in mob violence
Gurgaon, November 26
A mob of 1000 persons which had gathered for "Namaz" on the occasion of Id turned violent and damaged a garment unit and burnt more than 20 vehicles in Udyog Vihar here this morning.


Geeta, the 20-year-old woman, whose husband Jasbir was hacked to death allegedly by four Rajput youths yesterday in the main bazaar here, today said the killers, were threatening her and might even kill her for being a witness to the crime.

Geeta, Jasbir's widow, shows old photographs at her in-laws' house at Jahankhelan village in Hoshiarpur district on Wednesday. — Photo by Sukhwinder
In Science & Technology today
Special coverage of Assembly elections in Delhi, Rajasthan, Madhya Pradesh, Chhattisgarh and Mizoram
Ceasefire begins
November 26, 2003


India goes a step ahead, offers truce in Siachen
November 25, 2003

Challan sees rowdyism on roads
November 24, 2003

Chargesheet filed against Badal, five others
November 23, 2003

SC stays trial in Godhra, nine other cases
November 22, 2003

27 dead, 450 hurt in Istanbul blasts
November 21, 2003

Militants holed up inside BSNL office
November 20, 2003

Aircraft land Sonia, Jogi in soup
November 19, 2003

Judeo out, CBI probe on
November 18, 2003

Judeo to go if found guilty, says PM
November 17, 2003