HOROSCOPE
In Sports Tribune today
THE TRIBUNE MAGAZINES
On alternate Mondays

On Sundays

On Saturdays

IN PASSING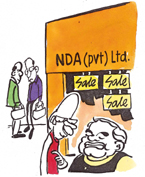 They are waiting for the 50 per cent discount on everything.

by Sandeep Joshi
(Click to enlarge)
A doctor tends to an injured man after a grenade blast in Jammu on Friday. Militants lobbed a grenade at a mosque on Friday, wounding more than 20 persons. — Reuters photo

Govt ready to broker Ayodhya settlement

New Delhi, January 9
Deputy Prime Minister L.K. Advani today called upon Hindus and Muslims to arrive at an amicable settlement of the Ayodhya issue. The Centre was ready to facilitate a negotiated settlement of the issue, he added.
No invitation yet, says Advani
New Delhi, January 9
Deputy Prime Minister L.K. Advani today said he had only seen media reports about being invited to Pakistan for discussions on an extradition treaty but nothing formal had been received by India so far. Talking informally to mediapersons at his residence this morning, Mr Advani said he had read about it only in newspapers.
SC's no to cancel doctors' bail in kidney racket
New Delhi, January 9
The Supreme Court has rejected the Punjab Government's plea for cancellation of the bail of two senior doctors from the state, accused of being involved in a kidney racket.



Curbs on foreign investment go
Sops to NRIs, PIOs in Gulf & South-East Asia
New Delhi, January 9
India today threw open the global marketplace for domestic companies by removing the existing restrictions and offered them the freedom of setting up foreign subsidiaries without limiting its size to a government determined investment ceiling.

Pre-poll tax sops target middle class
January 9, 2004

Unorganised sector gets social security
January 8, 2004

Pervez promises end to terror
January 7, 2004

Vajpayee meets Musharraf
January 6, 2004

India, Pak avoid Kashmir at SAARC
January 5, 2004

PM keeps door open for talks
January 4, 2004

SAARC agrees on terror protocol
January 3, 2004

Sinha flies into Pak as air links are restored
January 2, 2004

Foreign Secys struggle to iron out differences
January 1, 2004