HOROSCOPE
In Agriculture Tribune today
THE TRIBUNE MAGAZINES
On alternate Mondays

On Sundays

On Saturdays


India tame Aussies at Gabba
Brisbane, January 18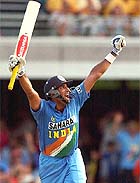 Yet another superb batting display marked by an unbeaten century by man-of-the-match V.V.S. Laxman, and excellent bowling by L. Balaji and Irfan Pathan, enabled India to beat world champions Australia on their home soil after a gap of 12 years at the Gabba here today.

VVS Laxman celebrates after hitting a boundary off the last ball of the Indian innings to bring up his 100 against Australia in Brisbane on Sunday.
— AP/PTI photo


Indian batsmen out on mission

Sports page: Sachin to miss Zimbabwe tie
No truck with Mulayam, Maya, says BJP
New Delhi, January 18
Amidst growing indications of early Lok Sabha elections, the BJP today kept open the option for a tie-up with the AIADMK, a day after Chief Minister J. Jayalalithaa hinted at her party's willingness for the same, but ruled out alliances with the Samajwadi Party or the BSP.


Sangma meets Vajpayee
National award for H.K. Dua
Surat, January 18
The prestigious fourth C.K. Pithwala National Award for 2002 was given to the Editor-in-Chief of The Tribune, Mr H.K. Dua, at a special function here today.


Thermal plant ignores fire safety
Panipat, January 18
Even after 24 years, the Tau Devi Lal Thermal Power Station, comprising six power generating units and a designated capacity of 860 MW ' is incapable of ensuring the safety of hundreds of people in and around the area due to lack of a proper fire safety protection system.
Interim Budget on February 3
January 18, 2004
2 top Hizb militants shot
January 17, 2004
Ceiling on FDI in petroleum, banking sectors up
January 16, 2004
Teachers not entitled to gratuity: SC
January 15, 2004
Indo-US relations set for a new high
January 14, 2004

Let new govt be in place by April, says PM
January 13, 2004

LS poll may be in March or May
January 12, 2004

Decision on LS poll by Jan 14, says Mahajan
January 11, 2004
Government doles out more concessions
January 10, 2004