THE TRIBUNE MAGAZINES
On alternate Mondays

On Sundays

On Saturdays

IN PASSING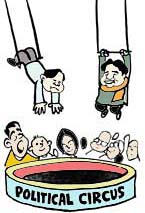 They have not yet decided about the front they want to join.
by Sandeep Joshi
(Click to enlarge)
Judge's arrest makes headlines in SA
Execution of 2 Parliament attack
convicts stayed
New Delhi, January 19
The Supreme Court today stayed the execution of two Jaish-e-Mohammed militants, Mohammed Afzal and Shaukat Hussain, alias Guru, in the Parliament attack case, in which their capital punishment was upheld by the Delhi High Court.
Vohra calls on Advani
New Delhi, January 19
Centre's Interlocutor on Jammu and Kashmir N.N. Vohra today had a 45-minute-long discussion with Deputy Prime Minister L.K. Advani, on the upcoming January 22 parleys between the Centre and the All Party Hurriyat Conference.
19 die as bus falls into Ravi
Chamba, January 19
All 19 persons travelling in a bus, including the driver and the conductor, were killed when the bus veered off the road and fell into the flowing Ravi river, about 150 metres deep, at Garola, about 55 km from here today at about 9 a.m.


26 children to get bravery awards
New Delhi, January 19
Five girls from a village in Haryana, who spoke against marriage of two minors, will receive National Bravery Awards for raising voice against social evils. The awards would be conferred by Prime Minister Atal Bihari Vajpayee at a special function here on January 24. Twenty six children, including nine girls, will get the bravery awards. Three children will be given award posthumously.


From Left: Neelam Rani, Sarita Tyagi, Sunita Devi Singhdoya, Swati Tyagi and Sushma Rani from Karnal (Haryana), who have jointly won the National Bravery Award, during a Press conference in New Delhi on Monday.
— Tribune photo by Mukesh Aggarwal
In Education Tribune today
Hurriyat wants to visit Pak before talks
January 19, 2004
Interim Budget on February 3
January 18, 2004
2 top Hizb militants shot
January 17, 2004
Ceiling on FDI in petroleum, banking sectors up
January 16, 2004
Teachers not entitled to gratuity: SC
January 15, 2004
Indo-US relations set for a new high
January 14, 2004

Let new govt be in place by April, says PM
January 13, 2004

LS poll may be in March or May
January 12, 2004

Decision on LS poll by Jan 14, says Mahajan
January 11, 2004
Government doles out more concessions
January 10, 2004