THE TRIBUNE MAGAZINES
On alternate Mondays

On Sundays

On Saturdays

IN PASSING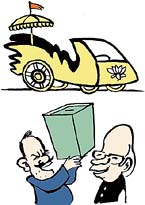 Tool box and first-aid box have been filled. Where do I fit this ballot box?
by Sandeep Joshi
(Click to enlarge)
Ex-Karnataka CM Bangarappa joins BJP


New Delhi, March 4
In a boost ahead of the crucial Lok Sabha and Assembly elections in Karnataka, former state Chief Minister S. Bangarappa joined the BJP here today, saying that the "Congress is not in a position to serve the nation."
Congress leaders looking for safe seats
New Delhi, March 4
If a number of senior Congress leaders are opting out of the electoral race, there are a host of others who are scouting around for safe seats.
Kalam cancels public functions
Binds self to EC model code
New Delhi, March 4
In an unprecedented decision, President A P J Abdul Kalam has cancelled all his public functions till the General Election is over, voluntarily binding himself to the Election Commission's Model Code of Conduct though the President does not come under its purview.
---
A skier shows his skill during the second phase of the fourth National Winter Games at Gulmarg, 55 km from Srinagar, on Wednesday.
— PTI
---

SAD in a fix over Advani's remarks
Chandigarh, March 4
Deputy Prime Minister L.K. Advani's call to the voters "not to go in for smaller and regional-level outfits" in the Lok Sabha elections has put the SAD, the main ally of the BJP in Punjab, in a quandary.

Caste divide claims girl's life
Bhattian (Patiala), March 4
It almost seems like a conspiracy of silence. Or better still an acquiescence to the alleged act of murder of a young girl who had dared to elope with a boy from another caste. Villagers say they know nothing of the alleged incident.
In Career Guide today
6 killed in Jammu jail attack
March

4

, 2004
Blasts in Iraqi mosques leave 140 dead
March

3

, 2004
EC dares to bare candidates
March 2, 2004

4-phase LS poll in April, May
March 1, 2004

Osama: captured or not?
February 29, 2004

Mufti Sayeed escapes grenade attack
February 28, 2004

Revolt will not hit Cong: Sonia
February 27, 2004

Hurriyat threatens to pull out of talks
February 26, 2004
Arif joins BJP
February 25, 2004
Blast in space centre kills 6
February 24, 2004
PM launches insurance scheme from Lucknow
February 23, 2004
Pak tour from March 10
February 22, 2004
2 pc additional DA for Central staff
February 21, 2004