THE TRIBUNE MAGAZINES
On alternate Mondays

On Sundays

On Saturdays

EC not to interfere

EC stops fresh work under PM's gram sadak yojna

Graphics: State/Union Territory and category wise composition of Lok Sabha seats

Architects of India's destiny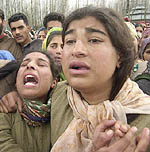 Militant, four civilians die in Budgam blast
Srinagar, March 10
At least five persons, including a suspected militant, were killed and 40 others injured in a grenade explosion following a scuffle at Wadwan village in Budgam district last night.


In video (28k, 56k)
Relatives of Mohammad Shaban wail during his funeral in Wabwan on Wednesday. — Photo by Amin War
Editorial: Targeting the media

Cong dilutes stand on J&K Bill
Telgi involved in petro-products racket: CBI
Countrywide raids by CBI on govt servants
New Delhi, March 10
The CBI today conducted countrywide raids in 92 places, seizing a huge amount of cash and registered 34 cases against 71 public servants, besides unearthing involvement of stamp paper scam accused Abdul Karin Telgi in a multi-crore rupee petro-products adulteration racket.
SC moved to modify order on IIM fee


Hoardings in place despite EC order
Kurukshetra, March 10
Thousands of hoardings, advertisements, wall paintings and overhead neon signs continue to dot public places,

in spite of

the directions of the Election Commission to remove the

se

.
A board listing achievements of the INLD government fixed on a Haryana Roadways bus. — Tribune photo

by

Manoj Mahajan


Himachal page:

HP Govt told to remove hoardings


Editorial:

Let elections shine
In Science & Technology today
Remove hoardings
March

10

, 2004
Second thoughts on J&K daughters' Bill
March

9

, 2004
Qazi blames Jaish for attack on Parliament
March

7

, 2004
BJP balances RSS, NDA visions in poll manifesto
March 6, 2004
Pak Gen offered N-help to Nigeria
March

5

, 2004
6 killed in Jammu jail attack
March

4

, 2004
Blasts in Iraqi mosques leave 140 dead
March

3

, 2004
EC dares to bare candidates
March 2, 2004

4-phase LS poll in April, May
March 1, 2004

Osama: captured or not?
February 29, 2004

Mufti Sayeed escapes grenade attack
February 28, 2004