India vs Pakistan

2004
THE TRIBUNE MAGAZINES
On alternate Mondays

On Sundays

On Saturdays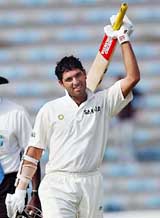 Chandigarh boy Yuvraj hits first Test century
Lahore, April 5
India gambled in batting on a lively wicket and nearly collapsed before a fighting maiden century by one-day specialist Yuvraj Singh took it to a respectable 287 on the opening day of the second cricket Test against Pakistan here today.


Sports page: This century means lot to me, says Yuvraj and more

Yuvraj Singh raises his bat after scoring a century during the opening day of the second Test match between India and Pakistan in Lahore on Monday. — Reuters photo
53 hurt in Pulwama blast
Srinagar, April 5
Fiftythree persons, including three Border Security Force men, were injured, eight of them seriously, when suspected militants lobbed a grenade in a market place of Pulwama this afternoon. The injured included five children and 10 women.
Calcutta offers to quit as SGPC Secy
Amritsar, April 5
A piquant situation arose when Mr Manjit Singh Calcutta today offered to step down as SGPC Secretary in the presence of Mr Parkash Singh Badal, President, Shiromani Akali Dal, when Mr Kirpal Singh Badungar, a former SGPC chief, raised objections over the presenting of 'siropa' (robe of honour) to Chief Minister Amarinder Singh by him (Mr Calcutta) during his recent visit to the Golden Temple.
Sikh dies of starvation in US jail
Washington, April 5
An elderly and wheelchair-bound Sikh inmate, who was a former head granthi at a local gurdwara, died of starvation in a California state prison, where he also faced brutal abuse by security guards, a media report alleged.


50 pc fish of Ram Tirath Temple tank die of suffocation
Ramtirath (Amritsar), April 5

Mystery shrouds the death of more than 50 per cent of the fish in the holy tank of the ancient Ram Tirath temple here during the 'kar seva' which has been under way since January 8, despite the stay orders of the Ajnala court.
Dead fish float in the sarovar of Ram Tirath Temple, 15 km from Amritsar, on Monday. — Photo by Rajiv Sharma
EC for prior clearance of political ads


April

5

, 2004

Jaguar wreckage, body of one pilot
April 4, 2004

SC bans political ads on TV
April

3

, 2004
The son sets in Tohra village


April

2

, 2004
SGPC chief Tohra passes away


April

1

, 2004
BJP releases Atal-centric Vision Document
March 3

1

, 2004
Congrats Sehwag, you've done it
March 30, 2004
Sehwag puts Pak attack to sword
March 29, 2004
Stop unfair TV ads, EC tells Ministry
March 28, 2004
PM offers to resolve Kashmir through talks
March 27, 2004
Rudy in soup as EC seeks information on air passes
March 26, 2004
India clinch series in Pak
March 25, 2004