PUNJAB
HARYANA
JAMMU & KASHMIR
HIMACHAL
REGIONAL BRIEFS
NATION
OPINIONS
MAILBAG
BUSINESS
SPORTS
WORLD
Wednesday, May 5, 2004, Chandigarh, India
Updated at 3:00 am (IST)

BREAKING NEWS
One killed, 37 injured in violence
25 per cent polling till noon
New Delhi, May 5
An estimated 25 per cent of the 10.72 crore electorate cast their votes till noon in the third phase of elections to 83 Lok Sabha seats in seven states marred by sporadic violence in Bihar and Jammu and Kashmir which left one person dead and 37 injured.
Shoot orders in Bihar
Tight security for poll in 7 states today
New Delhi, May 4
The crucial third phase of polling in 83 Lok Sabha constituencies, including the Lucknow seat from where Prime Minister Atal Bihari Vajpayee is contesting will take place tomorrow.
Nation page:
EC team returns from Chapra; report soon

Policemen check I-cards of bus passengers on the eve of elections in Anantnag, 55 km south of Srinagar, on Tuesday.
— Reuters photo
CAST YOUR VOTE
Should soldiers of the US-led coalition be persecuted for war crimes in Iraq?

AGRICULTURE
EDUCATION
HEALTH
SCIENCE & TECHNOLOGY
CAREER GUIDE
SPORTS
HER WORLD
TRIBUNE CLASSIFIEDS
FIR registered against Mehbooba
Srinagar/New Delhi, May 4


A case of intimidating voters and trespassing during the second phase of Parliamentary elections in Jammu and Kashmir was today registered against PDP chief Mehbooba Mufti, who is a candidate for the Anantnag constituency, following an EC directive.

J&K page:

NC welcomes EC decision on Mehbooba

NC will join third front, says Farooq
Poll panel to challenge HC order on prisoners
New Delhi, May 4
The Election Commission today decided to move the Supreme Court challenging the Patna High Court order asking it to consider countermanding elections in those constituencies from where 'criminals' lodged in jails were contesting.


BRIDES WANTED
GROOMS WANTED
OTHERS
HOW TO PLACE ADVTS
THE TRIBUNE MAGAZINES

On Sundays

On Saturdays

IN PASSING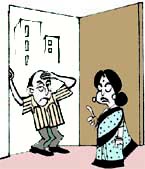 Don't feel guilty now. Afterall, you had to vote for someone.

by Sandeep Joshi
(Click to enlarge)
SC flays Patna HC for derogatory remarks against apex court
New Delhi, May 4
Dealing with a unique question for the first time in its history whether the high courts are subordinate to the Supreme Court or not, the apex court has ruled that it has never been intended so in the Constitutional scheme.
Militants attack CRPF camp, polling stations
Separatists held, supporters lathicharged
Srinagar, May 4
On the eve of the Parliamentary elections in Anantnag in Jammu and Kashmir, militants tonight attacked a CRPF camp, hurling a grenade on it and setting off a gunbattle with securitymen at the Mattan Chowk locality.
Cong sees PMO hand in reverting Telgi accused to old post
New Delhi, May 4
The Congress today hit back at Prime Minister Atal Bihari Vajpayee's charge that the mastermind of the multi-crore stamp paper scam Abdul Karim Telgi was its party worker and instead implicated the PMO in this case.
Bush wants strong action against abusers


Washington, May 4
US President George W Bush has discussed with Defence Secretary Donald Rumsfeld the "strong actions and steps that the military is taking to address matters in the prison system in Iraq and prevent prisoner abuse".


Editorial: Mercenary act

240 inmates freed from Abu Ghraib jail
Abdul Qadeer Khan's Dutch associate faces charges
Amsterdam, May 4
A Dutch business associate of Abdul Qadeer Khan, the Pakistani scientist who has admitted leaking nuclear secrets, has been charged over illegal exports to Pakistan, the Dutch news agency ANP reported today.


HC tells CBI to reply to Hindujas' plea
New Delhi, May 4
The Delhi High Court today told the CBI to reply to a plea by the Hindujas seeking clarification of the court's order directing the trial court to frame fresh charges in the Bofors kickback case.
For stability Congress is the right choice: VP
May

4

, 2004
EC team begins probe in Chapra
May

3

, 2004
CJI seeks powers to deal with 'errant' judges
May

2

, 2004
Prisoners can't contest elections
May

1

, 2004
EC team to probe Chapra violence
April

30

, 2004
Ultras attack NC rally in Doda
April 29, 2004
Exit polls send sensex nosediving
April 28, 2004
Eight killed in poll violence
April 27, 2004
Grenade attack at Mehbooba's rally
April 26, 2004
Campaigning for second phase poll ends
April 2

5

, 2004