PUNJAB
HARYANA
JAMMU & KASHMIR
HIMACHAL
REGIONAL BRIEFS
NATION
OPINIONS
MAILBAG
BUSINESS
SPORTS
WORLD
Friday, May 7, 2004, Chandigarh, India
Updated at 3:00 am (IST)

Firms hiring ex-armymen for Iraq to be prosecuted
New Delhi, May 6
Taking a serious view of reports of placement agencies recruiting ex-servicemen for security duty in Iraq, the government said today that it would prosecute firms indulging in this illegal activity.


World page: Ill-treatment of Indians in Iraq being probed: USA

CAST YOUR VOTE
Should all railways crossings be manned, even if train travel costs more?

AGRICULTURE
EDUCATION
HEALTH
SCIENCE & TECHNOLOGY
CAREER GUIDE
SPORTS
HER WORLD
TRIBUNE CLASSIFIEDS
BRIDES WANTED
GROOMS WANTED
OTHERS
HOW TO PLACE ADVTS
Supreme Court stays trial against Bhattal
New Delhi, May 6
In a major relief to Punjab Deputy Chief Minister Rajinder Kaur Bhattal, the Supreme Court today stayed the trial in a corruption case against her pertaining to the alleged misappropriation of Rs 20 lakh from Chief Minister's relief fund in 1996 when she was heading the government.
SC notice to govt on paper leak
Remand for investigation officer
New Delhi, May 6
The Supreme Court today issued notices to the Centre, CBI, Central Board of Secondary Examination and Union Public Service Commission on a petition seeking a foolproof examination system to prevent leak of question papers.


SC stays Patna High Court order on prisoners

Top Hizbul commander shot in Srinagar
Srinagar, May 6
The police today claimed to have achieved a major success with the killing of the operational chief of Hizb-ul-Mujahideen, Gazi Shahabuddin.
A woman weeps after a gunbattle at her house in Srinagar on Thursday. Police said they had killed the chief of Kashmir's frontline rebel group, Hizb-ul-Mujahideen in a gunbattle in downtown Srinagar. — Reuters photo
THE TRIBUNE MAGAZINES

On Sundays

On Saturdays

IN PASSING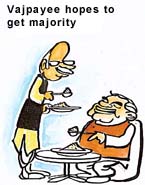 There's nothing like this khichdi, and its 22 ingredients...matchless.

by Sandeep Joshi
(Click to enlarge)
Planning Commission accepts Johl report
Chandigarh, May 6
The Planning Commission of India has accepted the report of the Johl Committee on diversification for implementation in the state. This information has been conveyed to the Chief Minister Capt Amarinder Singh by the Union Agriculture Ministry.
Chinese map shows Sikkim part of India
New Delhi, May 6
In a big step to raise India-China relations to a qualitatively new plain, Beijing has for the first time officially stopped showing Sikkim as a separate country in Asia, a move promptly appreciated by New Delhi.
Militants' postmortem reports stolen
Amritsar, May 6
In a sensational theft in the Civil Surgeons office here, which reportedly continued for three days, many important files pertaining to the post-mortem examination of militants and birth and death certificates were stolen.
PM's Ludhiana rally runs into rough weather
Chandigarh, May 6
Prime Minister Atal Bihari Vajpayee's election rally in Punjab on the last day of campaigning has reportedly run into rough weather. In less than 12 hours after he agreed to address a gathering in Ludhiana, the district administration has reportedly refused to cooperate regarding the venue of the rally.

Ludhiana page

Vajpayee coming to city on May 8


Midwives preferred
Chandigarh, May 6
Studies conducted by 18 Population Research Centres across the country reveal that child delivery at home by the midwife continues to be preferred Sterilisation is popular among women though less acceptable to Muslims. People have more knowledge about medical termination of pregnancy than spacing of children.
4 die as school van hits train
May

6

, 2004
One killed, 37 injured in violence
May

5

, 2004
For stability Congress is the right choice: VP
May

4

, 2004
EC team begins probe in Chapra
May

3

, 2004
CJI seeks powers to deal with 'errant' judges
May

2

, 2004
Prisoners can't contest elections
May

1

, 2004
EC team to probe Chapra violence
April

30

, 2004
Ultras attack NC rally in Doda
April 29, 2004
Exit polls send sensex nosediving
April 28, 2004
Eight killed in poll violence
April 27, 2004
Grenade attack at Mehbooba's rally
April 26, 2004
Campaigning for second phase poll ends
April 2

5

, 2004