PUNJAB
HARYANA
JAMMU & KASHMIR
HIMACHAL
REGIONAL BRIEFS
NATION
OPINIONS
MAILBAG
BUSINESS
SPORTS
WORLD
Wednesday, May 12, 2004, Chandigarh, India
Updated at 3:00 am (IST)

Cong sweeps Andhra
* Gets two-third majority
* Worst-ever performance by TDP
Hyderabad, May 11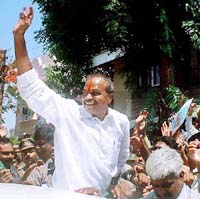 The man who was considered invincible till the other day has been humbled. Nara Chandrababu Naidu, the most visible and high profile Chief Minister the country has had in the recent past, had to bite the dust after nine years of glory. His Telugu Desam Party has been reduced to less than one-thirds of what it was in 1999.

Andhra Pradesh Congress President and chief ministerial candidate Dr Y. S. Rajshekhar Reddy greets his supporters in Hyderabad after his party-led alliance swept the Assembly poll on Tuesday.
— PTI photo

CAST YOUR VOTE
Can a coalition government provide stability?

Graphic: Andhra Pradesh Assembly poll outcome

Rattled, NDA asks George to rope in 'samajwadis'

Kalam consults Sorabjee

Business page: Market mayhem continues

Editorial: Naidu loses

Opinions page: Naidu paid the price for neglecting the poor

Nation page: Party authorises Sonia to talk to non-NDA partners

Surjeet at centre stage again

AP Assembly to be constituted today, says EC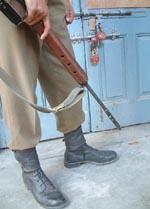 Repoll in 125 stations today
17 in Punjab and Haryana
New Delhi, May 11
The Election Commission today decided to hold repoll in 125 polling stations spread over eight states, including 17 in Punjab and Haryana, following reports of electoral malpractices.


A BSF jawan guards fully sealed rooms storing the EVMs for the Amritsar and Tarn Taran Lok Sabha seats in Amritsar on Tuesday. — Photo by Rajiv Sharma

PUNJAB: Poll over, candidates relax


HARYANA: Former minister gets bail


HIMACHAL: Arrangements in place for counting


NATIONAL CAPITAL REGION: Repoll on Sonepat booths ordered


CHANDIGARH: Heat wave grips city


LUDHIANA: Smokers puff in the face of ban


OPINIONS: Naidu loses


BUSINESS: Market mayhem continues


WORLD: UK troops killed unarmed Iraqi civilians, says Amnesty

THE TRIBUNE MAGAZINES
On Sundays

On Saturdays

CVC not to entertain anonymous complaints
New Delhi, May 11
The Central Vigilance Commission will no longer entertain anonymous complaints against government officials.
Mamata's mother in ICU after attack
Kolkata, May 11
Union Coal Minister and Trinamool Congress supremo Mamata Banerjee has alleged that her mother was assaulted by CPI (M) activists who attacked her house last night.
Cops create chaos in Shatabdi coaches
Lucknow, May 11
Several important trains, including Shatabdi Express, were delayed by hours after police personnel, returning from election duty, forcibly occupied berths in reserved coaches today.
Hizbul operational chief shot
Srinagar, May 11
Less than a week after the killing of operational chief of Hizb-ul-Mujahideen, the police here today shot the outfit's supreme commander of Doda region in an encounter.
Hurriyat spokesman released
New Delhi, May 11
A Delhi court today set free Hurriyat Conference's Delhi-based spokesman Shabir Dar after the government withdrew POTA charges slapped on him last year as part of the dialogue initiative with the amalgam.


Kalam outlines technological achievements


New Delhi, May 11
Outlining nine technological events, including the successful development of indigenous cryogenic engine, President A.P.J. Abdul Kalam today said these had the potential to penetrate the country's economy and help transform society.
BRIDES WANTED
GROOMS WANTED
OTHERS
HOW TO PLACE ADVTS
58 per cent cast vote
May

11

, 2004
Coalition with large parties better, says PM
May

10

, 2004
PM for stability, Sonia for change
May

9

, 2004
Gujarat action in bakery case misconceived, says SC
May

8

, 2004
Firms hiring ex-armymen for Iraq to be prosecuted
May

7

, 2004
4 die as school van hits train
May

6

, 2004
One killed, 37 injured in violence
May

5

, 2004
For stability Congress is the right choice: VP
May

4

, 2004
EC team begins probe in Chapra
May

3

, 2004
CJI seeks powers to deal with 'errant' judges
May

2

, 2004