PUNJAB
HARYANA
JAMMU & KASHMIR
HIMACHAL
REGIONAL BRIEFS
NATION
OPINIONS
MAILBAG
BUSINESS
SPORTS
WORLD

Sunday, May 16, 2004, Chandigarh, India
Updated at 3:00 am (IST)

Decks cleared for Sonia-led govt
Modalities to be worked out today
New Delhi, May 15
The decks were cleared today for a fourth member of the Nehru-Gandhi clan in Congress president Sonia Gandhi assuming the high office of Prime Minister though the CPM and CPI kept up the suspense whether they will be part of the non-NDA government of secular forces.


Nation page: 5 allies back Sonia as PM

CAST YOUR VOTE
Do the polls show anti-incumbency as a major factor?

AGRICULTURE
EDUCATION
HEALTH & FITNESS
SCIENCE & TECHNOLOGY
CAREER GUIDE
SPORTS
HER WORLD
TRIBUNE CLASSIFIEDS
Sonia elected CPP chief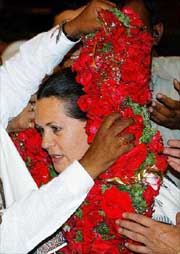 New Delhi, May 15
The Congress President, Ms Sonia Gandhi, today moved one step closer to becoming the Prime Minister when she was formally elected leader of the Congress Parliamentary Party.


In video (28k, 56k)

Nation page:

Sonia elected CPP leader in her absence

Rahul seen as alternative power centre

World page: Sonia's relatives fear for her life
Sonia Gandhi is garlanded by partymen soon after being elected Leader of the Congress Parliamentary Party at the Parliament House in New Delhi on Saturday. — PTI photo by V.K. Joshi

In Her World today
THE TRIBUNE MAGAZINES
On Sundays

On Saturdays

CPM Politburo members for joining govt
New Delhi, May 15
Several Politburo members of the Communist Party of India (Marxist) were in favour of joining the Congress-led coalition government at the Centre. However, they today left the final decision on the issue to the party's highest body, the Central Committee, which would begin its two-day meeting here tomorrow.


In video (28k, 56k)

CM draws up 7-point development charter
Chandigarh, May 15


Following drubbing in the just-concluded Lok Sabha elections, the Punjab Chief Minister, Capt Amarinder Singh, in a swift move, has drawn up a seven-point socio-economic development charter and re-prioritised policy programmes of his government.
112 Pak judges resign
Islamabad, May 15
In an unprecedented move, 112 judges and magistrates in Pakistan's Punjab province have resigned en masse following growing confrontation with lawyers.


Pakistan gives legal sanctity to PSGPC
Amritsar, May 15
The Government of Pakistan has passed a Bill to give legal sanctity to the five-year-old Pakistan Sikh Gurdwara Parbandhak Committee. This is for the first time that any Islamic country has accorded sanction to a religious body of a minority community.
BRIDES WANTED
GROOMS WANTED
OTHERS
HOW TO PLACE ADVTS
Sonia emerging front runner
May

15

, 2004
NDA VOTED OUT
May

14

, 2004
People's verdict today
May

13

, 2004
Cong sweeps Andhra
May

12

, 2004
58 per cent cast vote
May

11

, 2004
Coalition with large parties better, says PM
May

10

, 2004
PM for stability, Sonia for change
May

9

, 2004
Gujarat action in bakery case misconceived, says SC
May

8

, 2004
Firms hiring ex-armymen for Iraq to be prosecuted
May

7

, 2004
4 die as school van hits train
May

6

, 2004