PUNJAB
HARYANA
JAMMU & KASHMIR
HIMACHAL
REGIONAL BRIEFS
NATION
OPINIONS
MAILBAG
BUSINESS
SPORTS
WORLD

Saturday, May 29, 2004, Chandigarh, India
Updated at 3:00 am (IST)

Agriculture to get priority, assures FM
New Delhi, May 28
Underlining the Congress-led UPA government's resolve to go ahead with the reforms process, Union Finance Minister P Chidambaram affirmed today that the Common Minimum Programme had buttressed his resolve to accord highest priority to agriculture and infrastructure development and augmenting rural credit.

Budget on July 2 or 5
Nation page: Cabinet adopts CMP

Union Finance Minister P. Chidambaram makes a point during a press conference in New Delhi on Friday. — PTI photo

CAST YOUR VOTE
Should Gujarat CM Narendra Modi resign following widespread dissidence against him?

AGRICULTURE
EDUCATION
HEALTH & FITNESS
SCIENCE & TECHNOLOGY
FORUM
CAREER GUIDE
SPORTS
HER WORLD
TRIBUNE CLASSIFIEDS
In Sports Tribune today

Amarinder, Bhattal meet Sonia
New Delhi, May 28
Barely five months after they decided to put aside their differences, Punjab Chief Minister Amarinder Singh and his deputy Chief Minister Rajinder Kaur Bhattal are back at battling each other.

Swaminathan to head panel on farmers
New Delhi, May 28
Food and Agriculture Minister Sharad Pawar today identified increasing agricultural productivity and enhancing the credit flow to the farmers among his priorities.
File on Centre-state MoU goes missing
Shimla, May 28
The all-important file containing correspondence between the previous BJP government and the Centre concerning the signing of a memorandum of understanding for carrying out fiscal reforms has disappeared mysteriously from the state Secretariat.
BRIDES WANTED
GROOMS WANTED
OTHERS
HOW TO PLACE ADVTS
THE TRIBUNE MAGAZINES
On Sundays

On Saturdays


Notice to Solanki for rebelling against Modi
New Delhi, May 28
The Bharatiya Janata Party high command today came to the rescue of beleagured Gujarat Chief Minister Narendra Modi sternly asking the rebellious MLAs to fall in line.
Editorial: Modi on the wane

Nation page: BJP stands by Hindutva: Advani
SC refuses to redefine rape
New Delhi, May 28
In a significant judgement, the Supreme Court has refused to give a broader meaning of word "rape" than defined in Section 375 of the Indian Penal Code by including all forms of sexual abuses under its definition, saying that it will create confusion and will not be in the interest of the society.
I believed Major's report: Colonel
Jodhpur, May 28
Commanding Officer of Gorkha Battalion Col K.D. Singh today told a military court that he had recommended gallantry award for Major Surinder Singh on the basis of the report submitted by the officer and was unaware that the Siachen Glacier encounters were fake.
2 Japanese journalists killed in Iraq
Mahmudiya (Iraq), May 28
Two Japanese freelance journalists were killed in a rocket-propelled grenade attack on their vehicle south of Baghdad, their Iraqi driver told the hospital where the bodies were taken today.


Scrap visa regime, say Pak delegates
Chandigarh, May 28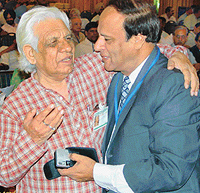 The 10th World Punjabi Conference opened with the visiting Pakistani delegates giving a clarion call for the abolition of the visa regime within the SAARC region.

Indian writer K.L. Zakir embraces Pakistani friend Izaz Ahmad Azer during the World Punjabi Conference that started in Chandigarh on Friday. — Tribune photo by Manoj Mahajan

Punjab page:

Conflict between Shahmukhi and Gurmukhi persists

Having fought dictatorship, poet fights poverty


CMP a neat balancing act
May

28

, 2004
Broad consensus on CMP
May

27

, 2004
Criminal on bail in Manmohan Ministry
May

26

, 2004
DMK threatens to pull out
May

25

, 2004

Portfolio allocation throws up surprises
May

24

, 2004

Manmohan heads 68-member Ministry
May

23

, 2004

Allies bargain hard for key portfolios
May

22

, 2004

Indo-Pak friction must end: Manmohan
May

21

, 2004

Manmohan Singh to be PM
May

20

, 2004

Sonia declines post of PM
May

19

, 2004