PUNJAB
HARYANA
JAMMU & KASHMIR
HIMACHAL
REGIONAL BRIEFS
NATION
OPINIONS
MAILBAG
BUSINESS
SPORTS
WORLD

Wednesday, June 23, 2004, Chandigarh, India
Updated at 3:00 am (IST)

Return to basics, BJP chief tells party cadre
No question of being apologetic about Hindutva
Mumbai, June 22
It is back to basics for the BJP with its president, Mr M Venkaiah Naidu, today calling upon the cadres to rededicate themselves to the party "ideology and idealism" and charged the Congress-led UPA Government of indulging in "competitive pseudo-secularism" which is dangerous for national security.


In video (28k, 56k)


Thakeray sounds Hindutva bugle

Special Article: Strange are the ways of politics
CAST YOUR VOTE
Do you believe that Tehelka tapes have not been "over-dubbed"?

SCIENCE & TECHNOLOGY
EDUCATION
HEALTH & FITNESS
FORUM
JOBS & CAREERS
SPORTS
WOMEN
TRIBUNE CLASSIFIEDS
BRIDES WANTED
GROOMS WANTED
OTHERS
HOW TO PLACE ADVTS
In Health & Fitness Today



Former Prime Minister Atal Bihari Vajpayee lights the lamp to begin the proceedings of the three-day BJP National Executive in Mumbai on Tuesday. Also seen are Mr L.K. Advani, Mr Gopinath Munde and Mr Venkaiah Naidu.
— Tribune photo by Mohan Bane
22 Asian nations adopt 13-point programme on cooperation
New Delhi, June 22
The 22-member Asia cooperation dialogue today decided to intensify cooperation among themselves in a big way to take Asia's economic integration to the next level, make travel into and within Asia easier and bridge the divide within Asia and between Asia and the world.


Nation page: India, Pakistan ready to sign pact on Baglihar project

India committed to resolving differences with Pak, says Natwar


Indian Foreign Minister Natwar Singh (right) chats with Chinese Premier Wen Jiabao before the opening ceremony of the Asia Cooperation Dialogue Foreign Ministers' Meeting in the port city of Qingdao, in east China's Shandong province on Tuesday.
— AP/ PTI photo
THE TRIBUNE MAGAZINES
On Sundays

On Saturdays

IN PASSING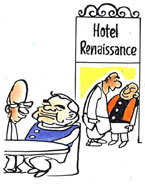 We hope to have a renaissance in the party by holding our meeting in this hotel.

by Sandeep Joshi
(Click to enlarge)

Managing OK report no problem
Taking samples to check adulteration
Chandigarh, June 22
Revealing an astonishing case, Punjab Health Minister, Romesh Chander Dogra stated in the Punjab Assembly today that a raiding party took a sample of "petrol" to check adulteration.
MDMK will not join UPA govt, says Vaiko


Chennai, June 22
Marumalarchi DMK General Secretary Vaiko today ruled out his party joining the Congress-led United Progressive Alliance Government at the Centre.


In video (28k, 56k)
Pistol in parcel sent to Kalam
New Delhi, June 22
Officials in Rashtrapati Bhavan went into a tizzy this morning after a parcel which was addressed to President APJ Abdul Kalam was found containing a pistol, a cartridge and suspected explosive.
RAF to train IAF pilots in Wales
New Delhi, June 22
Come July and the Indian Air Force will embark on a path-breaking experiment to shape its trainee pilots in a foreign land for the coming four years. As a part of the £ 795 million contract for Advanced Jet Trainers, signed with the British Government and the BAE Systems, manufacturers of Hawks, IAF trainee pilots will be sent to the Royal Air Force Valley from July to be a part of rigours and challenge which UK pilots have been facing for years.
Natwar strikes a chord with Kasuri
June 22, 2004
Indo-Pak moratorium on N-tests
June 21, 2004
Indo-Pak nuclear CBM talks on right track
June 20, 2004
Modi may go
June 19, 2004
Gujarat to be discussed in Mumbai: Vajpayee
June 18, 2004
24 dead, 60 hurt in rail mishap
June 17, 2004
Petrol, diesel, LPG to cost more
June 16, 2004
BJP rallies behind Modi, ignores Vajpayee
June 15, 2004
India to join G-20 fight for farm subsidies
June 14, 2004
Ultras target tourists
June 13, 2004
Govt may review stand on troops for Iraq
June 12, 2004
President's Address passed without debate
June 11, 2004