PUNJAB
HARYANA
JAMMU & KASHMIR
HIMACHAL
REGIONAL BRIEFS
NATION
OPINIONS
MAILBAG
BUSINESS
SPORTS
WORLD

Wednesday, June 30, 2004, Chandigarh, India
Updated at 3:00 am (IST)

PM for uniform focus on rural development
New Delhi, June 29
Prime Minister Manmohan Singh today urged state governments to draw from the Chinese model of rural development with focus on value addition and business hubs.


Prime Minister Manmohan Singh at a conference on "Poverty alleviation and rural prosperity through Panchayati Raj" at Vigyan Bhavan in Delhi on Tuesday. — Tribune photo by Mukesh Aggarwal
CAST YOUR VOTE
Do you feel that crimes against women are rising?

EDUCATION
JOBS & CAREERS
HEALTH & FITNESS
FORUM
SCIENCE & TECHNOLOGY
SPORTS
WOMEN
TRIBUNE CLASSIFIEDS
BRIDES WANTED
GROOMS WANTED
OTHERS
HOW TO PLACE ADVTS
Nation page: Revise 'poverty line' formula: Punjab CM

HP wants forest Act waiver
IIMs to revert to old fee structure
New Delhi, June 29
The Human Resource Development Ministry and the six IIMs today arrived at a compromise formula over the fee structure in B-schools. Consequently, the Ministry withdrew the February order issued by the previous government asking the IIMs to reduce their fees.
In video (28k, 56k)

HRD Minister Arjun Singh addresses a press conference on Tuesday. — A Tribune photograph

In Health & Fitness today
THE TRIBUNE MAGAZINES
On Sundays

On Saturdays

IN PASSING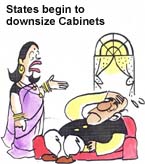 How will you serve the nation without staff car, security, official bungalow and all that?

by Sandeep Joshi
(Click to enlarge)
Lashkar network busted, 2 Pak militants killed
Group planned to attack Bombay Stock Exchange
Srinagar, June 29
The police today claimed to have killed two top militants of the Lashkar-e-Toiba, both Pakistanis, and busted its network involved in six suicide attacks here during the past two years.


Editorial: Targeting the track

SE Kanjla, 23 other engineers held in bitumen scam
Chandigarh, June 29
In less than a fortnight after The Tribune busted the bitumen scam, the Punjab Vigilance Bureau today arrested Superintending Engineer M.S. Kanjla and 23 other engineers in a statewide crackdown.
Panjwar's aide arrested
Amritsar, June 29
In a major breakthrough, the Tarn Taran police today arrested Harchand Singh, a resident of village Narli, police station Khalra. He is said to be a close associate of Parmjit Singh Panjwar, whose name figured in the list of India's 20 most wanted.
Normal rainfall expected
New Delhi, June 29
The meteorological department today forecast that the country would receive normal rainfall this year. It claimed monsoon would enter Delhi by Monday or Tuesday.


Tackling heart attack: Chandigarh institute develops new drug
Chandigarh, June 29
Tackling a heart attack, which is till now a costly affair, may soon be within the reach of the common man? Egged on by their Director, Dr Amit Ghosh, scientists of the Chandigarh-based Institute of Microbial Technology have already developed a recombinant version of the popular clot-buster drug Streptokinase.


Dr Amit Ghosh


India, Pak vow to resolve Kashmir issue
June 29, 2004
India, Pak agree on slew of CBMs
June 28, 2004
Militants massacre 12 in Poonch
June 27, 2004
Kiran Choudhary's
hopes dashed
June 26, 2004
PM for new deal to rural India
June 25, 2004
BJP skips Hindutva, targets Sonia
June 24, 2004
Return to basics, BJP chief tells party cadre
June 23, 2004
Natwar strikes a chord with Kasuri
June 22, 2004
Indo-Pak moratorium on N-tests
June 21, 2004
Indo-Pak nuclear CBM talks on right track
June 20, 2004
Modi may go
June 19, 2004