PUNJAB
HARYANA
JAMMU & KASHMIR
HIMACHAL
REGIONAL BRIEFS
NATION
OPINIONS
MAILBAG
BUSINESS
SPORTS
WORLD

Tuesday, July 6, 2004, Chandigarh, India
Updated at 3:00 am (IST)

Capt drops 10 ministers
Singla new Cabinet minister; 2 get Cabinet rank
Chandigarh, July 5
In the process of down-sizing the Punjab Council of Ministers, five senior Cabinet-rank ministers and an equal number of ministers of state have been axed.

Surinder Singla

Amarjit Singh Samra

Jasjit Singh Randhawa


3 Cong MLAs threaten to quit
Himachal page: Three Himachal ministers dropped
CAST YOUR VOTE
Should the lower income tax slab be raised in this year's Union Budget?

EDUCATION
JOBS & CAREERS
HEALTH & FITNESS
FORUM
SCIENCE & TECHNOLOGY
SPORTS
WOMEN
TRIBUNE CLASSIFIEDS
BRIDES WANTED
GROOMS WANTED
OTHERS
HOW TO PLACE ADVTS

PM rings up Vajpayee as Parliament adjourns again
New Delhi, July 5


As a determined Opposition disrupted Parliament on the opening day of the Budget session, Prime Minister Manmohan Singh appealed to his predecessor Atal Bihari Vajpayee to end the ongoing deadlock.


In video (28k, 56k)


NDA strategy on Budgets today
Upper class travel may cost more
Laloo presents pro-poor Railway Budget today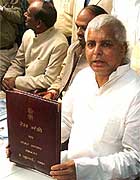 New Delhi, July 5
From all outward appearances, Union Railway Minister Laloo Prasad Yadav remains unfazed by the threatened Opposition boycott of his maiden budget here tomorrow which is unlikely to hike second class passenger and freight rates.

Railway Minister Laloo Prasad Yadav after giving final touches to the Rail Budget in New Delhi on Monday.
— Photo by Rajeev Tyagi


Nation page: "Trains At A Glance" behind schedule

In Education Tribune today

THE TRIBUNE MAGAZINES
On Sundays

On Saturdays

IN PASSING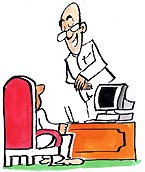 You want to remove more Governors? Very simple. Press CTRL+ALT+DEL.

by Sandeep Joshi
(Click to enlarge)

Kidwai for Haryana as Kalam names 4 Governors


New Delhi, July 5
President A.P.J. Abdul Kalam today appointed new Governors for Haryana, Gujarat, Uttar Pradesh and Goa.


Haryana page: An educationist comes to Raj Bhavan
Natwar's maiden Pak visit on July 19


New Delhi, July 5
Mr K. Natwar Singh will be making his maiden visit to Pakistan as India's External Affairs Minister on July 19 during which he is likely to meet Pakistan President Pervez Musharraf as well as new Prime Minister Chaudhary Shujat Hussain, sources said today.
Efforts to evolve model 'nikahnama'
Muslim Personal Law Board executive meeting
Lucknow, July 5
The decisions taken at the 42-member national executive of the All-India Muslim Personal Law Board in Kanpur on Sunday is a classic example of too little, too late.
Hannah's parents leave for India to track down killer


London, July 5
Fifteen months after the murder of their daughter, Hillary and Trevor Foster of Hampshire plan to travel to India next week to track down the suspected killer, Maninder Pal Singh Kohli, a sandwich delivery driver who disappeared from his home in Southampton, shortly after Hannah Foster's body was found.


Heavy debt drives farmers to suicides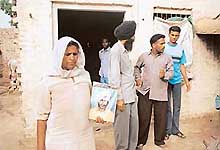 Bhutal Khurd (Sangrur), July 5
It is a non-descript village on the Punjab-Haryana border. Its claim to fame — six suicides in two years. All due to poverty.

Members of a suicide victim's family in Sangrur's Bhutal Khurd await help. — Photo by writer

22 killed as bus hits tree near Ferozepore
July 5, 2004
2 die, 35 hurt in blast near Mufti's residence
July 4, 2004
Kalam sacks Governors of Haryana, UP, Gujarat, Goa
July 3, 2004
PM brings relief for Andhra farmers
July 2, 2004
Tainted ministers to stay, asserts PM
July 1, 2004
PM for uniform focus on rural development
June 30, 2004
India, Pak vow to resolve Kashmir issue
June 29, 2004
India, Pak agree on slew of CBMs
June 28, 2004
Militants massacre 12 in Poonch
June 27, 2004
Kiran Choudhary's
hopes dashed
June 26, 2004