PUNJAB
HARYANA
JAMMU & KASHMIR
HIMACHAL
REGIONAL BRIEFS
NATION
OPINIONS
MAILBAG
BUSINESS
SPORTS
WORLD

Wednesday, July 7, 2004, Chandigarh, India
Updated at 3:00 am (IST)


New Delhi, July 6


Railway Minister Laloo Prasad Yadav today unveiled a politically-correct common man-centric Railway Budget for 2004-05, leaving passenger fares and freight rates untouched and announced several sops for Maharashtra and Bihar where Assembly elections are due in the next six months.
CAST YOUR VOTE
Does the Railway Budget satisfy you?

EDUCATION
JOBS & CAREERS
HEALTH & FITNESS
FORUM
SCIENCE & TECHNOLOGY
SPORTS
WOMEN
TRIBUNE CLASSIFIEDS
BRIDES WANTED
GROOMS WANTED
OTHERS
HOW TO PLACE ADVTS


Passengers walk on platforms at a railway station in Mumbai on Tuesday.
— Reuters photo
Editorial:
Politician's Budget


15 new express trains planned
New Delhi, July 6
Railway Minister Laloo Prasad Yadav today proposed 15 additional express trains to be introduced apart from the 17 Sampark Kranti Express trains announced by his predecessor Nitish Kumar in the Interim Budget.


Chandigarh-Ludhiana line to be completed

Sops for widows of defence personnel

Nation page: Railway Minister keeps LS in good humour

Business: Industry's thumbs-up for Laloo's Rail Budget

Chandigarh page: Rail Budget evokes mixed reaction
In Health & Fitness today
THE TRIBUNE MAGAZINES
On Sundays

On Saturdays

Railway Budget is pro-poor, says Laloo
Oppn calls it lacklustre
New Delhi, July 6
Railway Minister Laloo Prasad Yadav said today that his maiden budget was aimed at making the Railways self-sufficient without imposing any additional burden on the common man but the Opposition described the Budget as "anti-development."
NDA not to stall Parliament
New Delhi, July 6
The BJP-led NDA, which had boycotted the Railway Budget today, has decided to give up its strategy of stalling Parliamentary proceedings on the issue of "tainted" ministers with effect from tomorrow and decided to focus its protest mainly against "one representative tainted minister, Mr Laloo Prasad Yadav, in an appropriate manner."

Violence marks bandh against school fire
Srinagar, July 6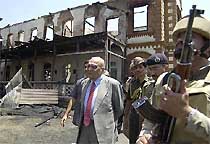 Stray incidents of stone pelting and the setting ablaze of a bus by demonstrators marked the general strike here today called against the burning down of Islamia High School.


In video (28k, 56k)
The Governor of Jammu and Kashmir, Lieut-Gen (retd) S. K. Sinha, inspects the gutted building of Islamia School in downtown Srinagar on Tuesday. — Photo by Amin War


Farming no more viable for marginal farmer
Sangrur, July 6
Agriculture no longer seems to be an economically viable venture for a marginal farmer. Sangrur's 24 lakh tonnes of paddy yield in one season matches the paddy production of entire Haryana. And at 12.5 lakh tonnes, is the highest wheat producing district in India.
Capt drops 10 ministers
July 6, 2004
22 killed as bus hits tree near Ferozepore
July 5, 2004
2 die, 35 hurt in blast near Mufti's residence
July 4, 2004
Kalam sacks Governors of Haryana, UP, Gujarat, Goa
July 3, 2004
PM brings relief for Andhra farmers
July 2, 2004
Tainted ministers to stay, asserts PM
July 1, 2004
PM for uniform focus on rural development
June 30, 2004
India, Pak vow to resolve Kashmir issue
June 29, 2004
India, Pak agree on slew of CBMs
June 28, 2004
Militants massacre 12 in Poonch
June 27, 2004